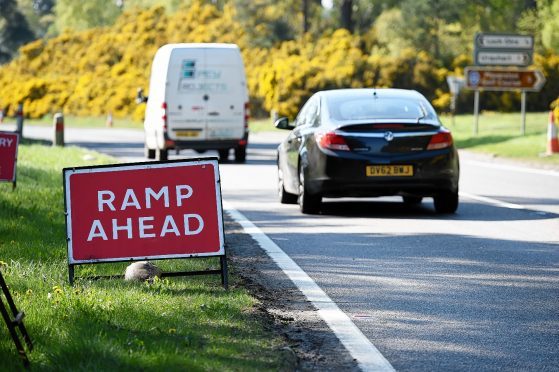 Motorists will face delays on Moray's busiest trunk route as a roadworks programme expands next week.
Work began on replacing an outdated gas main along a section of the A96 Aberdeen to Inverness route through Elgin last week, and road engineers are now preparing to launch a resurfacing scheme while it is ongoing.
Transport Scotland has pledged £350,000 to upgrade a stretch measuring more than half a mile between Reiket Lane and Ashgrove Road.
The programme will include resurfacing both lanes of the A96 on the east of Elgin, as well as the roundabouts leading to the Tynock and Moycroft industrial estates.
The project will get under way on Tuesday, and is expected to last for two weeks with work taking place each night from 7.30pm to 6.30am.
The team will avoid working on Saturday and Sunday nights and, though lanes will close overnight, restrictions will be lifted during the day.
Bear Scotland has planned the refurbishment to coincide with gasworks which are already taking place along the route.
The organisation's north-east representative, Andy Thompson, said the scheme would create a "smoother and safer" journey for drivers.
He added: "We've programmed the works to dovetail with the ongoing gas pipeline works, to minimise disruption to local businesses and the travelling public.
"We would, however, encourage motorists to plan their journeys in advance by checking the Traffic Scotland website, allowing some extra time where possible."
Roads near the eastern edge of Elgin were plunged into chaos on Monday when distribution firm SGN commenced a six-week scheme to replace an outdated gas main.
Engineers closed off a section of the westbound carriageway near the junction with Ashgrove Road during the morning.
Traffic was diverted down the quiet residential street and became gridlocked, with vehicles tailing back almost from the junction with Linkwood Road to the A96.
The problems worsened in the afternoon, when a major gas leak was detected beneath a cycle path near Lhanbryde.
The Aberdeen to Inverness route was closed between Elgin and the Moss of Barmuckity, and drivers had to take a 30 minute detour before rejoining the main artery.
Elgin City South councillor, John Divers, predicted the town would face "huge traffic issues" over the summer.