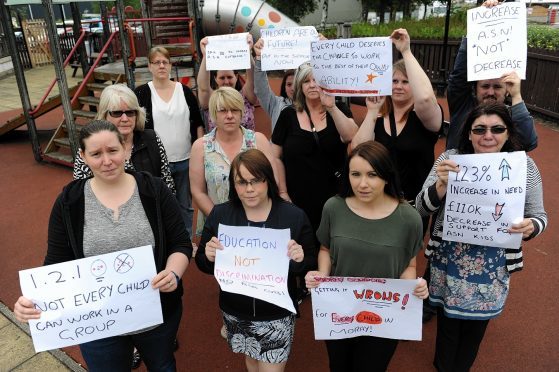 Parents fighting Moray Council plans to reduce the number of classroom support posts have been invited to individually meet education bosses next week.
The local authority has arranged a series of summits in an effort to reassure a group of crusading parents that their children's education will not suffer as a result of the proposal, which will be rolled out next term.
Although the council says several children who have previously relied on one-to-one supervision will lose that support, education chiefs maintain that every child will be "appropriately" looked after.
Rachel Duggan's seven-year-old son, Ally, is due to enter P4 at Elgin's Greenwards Primary School after summer.
The seven-year-old has thus far been schooled on a part-time schedule, as he has "severe behavioural problems" and can only attend lessons when he has one-to-one support.
Mrs Duggan will meet the council's corporate director of education and social care, Laurence Findlay, next Wednesday to ask how the revised approach will impact on her son's education.
She said: "If Ally does lose his individual support then he won't be able to go to school, but I still don't know what the plans for him are next term.
"We have been told his timetable could change dramatically."
Parents fear that their disabled children's wellbeing could be at risk if they are not properly supervised at school.
Dozens have gathered at protest meetings since details of the scheme emerged last month.
The parent group had originally hoped to stage a public gathering where the council representatives could hear from several members directly.
Mrs Duggan said: "It shocked us when we learned that we'd be getting these individual meetings instead.
"Maybe they were worried about doing it in a group setting, but we are not a lynch mob.
"We are just glad to have the chance to speak with the council and to let them know how grave our concerns are.
"We are still willing to fight these plans over the summer."
Moray Council agreed to progress the controversial new approach last month after an amendment was made that education chiefs personally met parents to explain it.
The council's inclusion manager, Pat McLennan, claimed that previous methods of allocating support staff had resulted in some schools receiving more provision than they required.