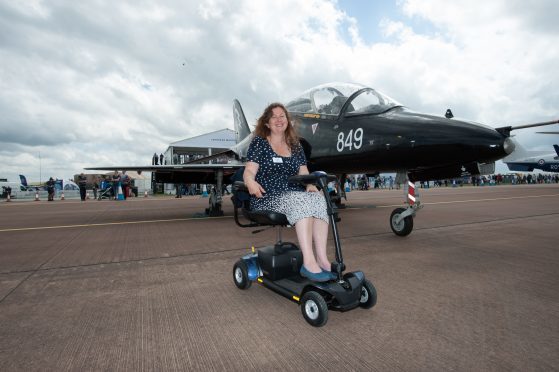 A determined disabled mother from Lossiemouth has taken to the sky with her family after defeating personal demons.
Karen Cox got behind the controls of a single-engine plane this month despite suffering from chronic pain in all her joints, memory problems and fatigue.
About 30 years ago the mother-of-three was a keen glider before her medical problems and family life got in the way.
And after eventually completing the course this year Mrs Cox successfully landed a plane with her husband, one of her daughters and instructor on-board.
She said: "I wanted to show them what I had done and how far I had come. I wanted them to experience it first-hand.
"My husband was very impressed but it was actually a very bumpy day so I don't think they enjoyed the flight quite as much as me."
As soon as Mrs Cox arrived in the Cotswalds for the course the instructors took her into the cockpit to test her abilities.
On her first trip she took the plane off the ground and explained the flying was the easiest part of the three weeks.
She said: "I was away from my support network and that was hard. I even had my husband on standby looking at train times for me to come home – but I am so glad I stayed.
"I wouldn't drive into Elgin on my own before. I didn't cope well in new situations. There was a lot of anxiety. The biggest thing for me was being able to think and adapt to what was around me."
Mrs Cox's training was funded by charity Flying Scholarships for Disabled People (FSDP), which was set up in memory of World War II fighter Sir Douglas Bader, who continued to fly despite losing both legs.
Having pushed herself out of her comfort zone by getting in the cockpit the 49-year-old's next personal goal is to travel abroad for the first time since 1989 to celebrate her 50th birthday.
Keith Bayliss, chairman of FSDP, said: "Because of their disability, our scholars are often told what they can't do. Our aim is to change that perception and give them the confidence to show themselves what they can do."