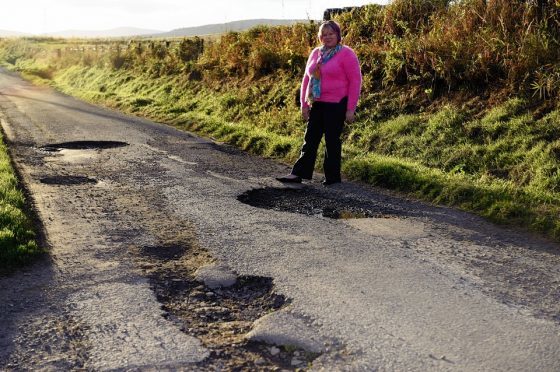 A Moray community group's quest to take ownership of a pothole-ridden rural road has progressed after the local authority pledged to investigate upgrading it.
Residents in Newmill, outside Keith, claim its ramshackle roads have made their lives miserable – but say they have been unable to contact the landowners responsible for their upkeep.
The dilapidated routes belong to Newmill Estates, but the absentee landlord is believed to reside in New Zealand.
The Newmill Community Association has led the campaign to have the routes repaired.
And the group's months of misery could soon reach an end, after representatives from several agencies gathered in the village to try to hammer out a resolution to their problems.
Roads experts from Moray Council and Highlands and Islands Enterprise joined local MSP Richard Lochhead and Keith and Cullen councillor Gary Coull to discuss options for improving the roads.
After learning of the severity of the situation, the council made a commitment to determine how much it would cost to bring the unadopted roads and lanes up to a decent state of repair.
If they are brought up to a sufficient standard, the local authority could then assume responsibility for their future upkeep.
And Highlands and Islands Enterprise staff offered to assist the group of villagers by helping them examine the possibility of bringing the roads in question under community ownership.
The chairwoman of the Newmill Community Association, Rhona Patterson, said she was "delighted" at the culmination of the "productive meeting".
Mr Lochhead was contacted by scores of constituents last year, who feared the roads might never be fixed.
He arranged the recent gathering in an effort to rectify the "unacceptable situation" Newmill residents found themselves in.
Mr Lochhed added: "Roads and lanes in the village which have been left to deteriorate to a very poor standard by absent landlords.
"The community does not even know who the landowners are, and numerous requests for repair made via the local factor have unfortunately been turned down.
"This leaves the community in the undesirable situation where they themselves need to look at alternatives."
Councillor Coull said: "It's not good enough for an absent land owner to neglect their land in this way.
"I hope that a solution can be found for the good of the people in the village."