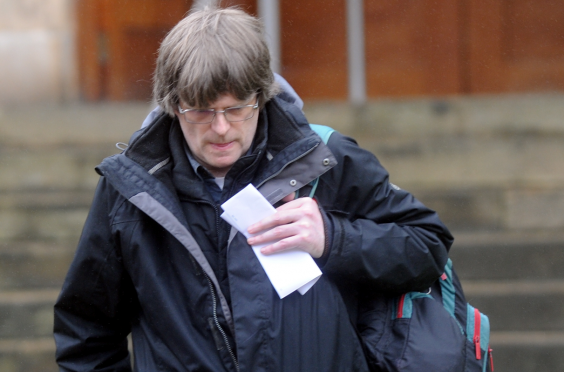 A former Moray College technician who was caught with indecent images of children as young as three claimed he had mistakenly downloaded the pictures while searching for adults wearing nappies.
Gary Mackenzie's Dufftown home was raided by police last summer after they received intelligence that his internet network had been used to share child pornography online.
Shocked residents watched as the police spent hours scouring his home before they emerged with boxes full of his belongings and computer equipment.
When examined, officers found a stash of illicit pictures and almost four hours of video footage which showed boys and girls aged as young as three being abused.
And when the 52-year-old was questioned about the offensive material by the police he said he may have "inadvertently" downloaded the footage – while searching for images of adults wearing nappies.
Mackenzie, of 9 Fife Street in Dufftown, downloaded a total of 37 indecent images of children and three hours and 57 minutes of footage between November 2007 and July 21, 2015.
He also admitted being in possession of the illicit material between November 2007 and July 22, 2015.
Mackenzie admitted one further charge of possessing extreme pornographic images of adults and animals.
Yesterday the former technician, who has now left his job at the Elgin campus, appeared at the town's sheriff court to be sentenced.
Upon his return to the dock, Mackenzie looked shame-faced as the court heard about his collection of images.
His solicitor, Robert Cruickshank, confirmed that he had voluntarily left his position at Moray College.
And he pleaded for the sheriff to show leniency, insisting that Mackenzie had downloaded the images "for personal use" and not to be distributed.
Mr Cruickshank said: "There was not a significant method of storage, and we are talking about a relatively low number of images.
"I would ask the sheriff to stop short of a custodial sentence."
The court heard that Sheriff Olga Pasportnikov had been informed that Mackenzie was classed as being at a "low risk" of re-offending.
She said as a result she was willing to deal with the matter without handing out a custodial sentence.
He was placed on the sex offenders' register for three years and he will remain under supervision during that time.
Moray College has declined to make any comment on the conduct of its former employee.