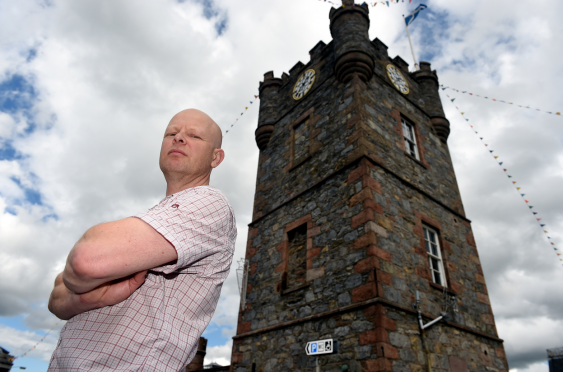 The Duke of Rothesay could help a group of Moray residents in their fight to protect the local landscape.
Scottish Hydro Electric Transmission want to erect 78ft electric poles across the countryside to hook the 59-turbine Dorenell wind farm to the National Grid.
The cables will stretch for over 14 miles from the Dorenell turbines to the Blackhillock substation near Keith.
But Dufftown residents have united to fight the proposals, and claim the firm ignored their views when plotting the route.
They are now preparing to lobby Prince Charles, MSPs, Moray Council and Historic Scotland, among others, to speak out about the development.
Dufftown B&B owner Alistair Jeffs has previously urged the power firm to consider routing the cables underground, but does not believe it was ever properly considered.
He said: "What's the point in holding public exhibitions and putting all the boards up in the Memorial Hall just to come up with the cheapest option? That's not consultation.
"There's no point making us all submit comments if it was always going to revert back to the original proposal. It's a done deal.
"The only real course of action we have is to object when the final application is put in. Nothing we've said up until now has been taken into account. It's just going to be ignored. It's a stitch up."
Last night a spokesman for SHE Transmission insisted the team had used the feedback from consultations to come up with a "balanced proposal" and stressed that was why they were proposing wooden poles, instead of pylons, to minimise the impact of the landscape.
But Colin Mackenzie, who lives on the outskirts of Dufftown and will be less than a mile away from where the proposed poles will be built, remains unconvinced.
Mr Mackenzie has prepared a dossier on the development and intends to start a lobbying campaign to urge people to object to the plans.
Among his targets is the Duke of Rothesay, who took an interest in his family's saw mill on Deeside after seeing it restored.
Mr Mackenzie said: "There is a strong case for it to go underground. It's all I can argue for, I know they won't change the route.
"The problem there is that it will cost extra money and I understand that will come out of the public purse so they need to justify that."
In the last two rounds of consultation, Mr Mackenzie said he had only noticed minor changes to the route that do reduce the impact of the cables.
A spokesman for Scottish Hydro Electric Transmission said the firm had taken into account the views of locals while plotting the course for the poles and remains open to talking further with communities.
He said: "The project has been discussed publicly since November 2014 and has been continuously developed through discussions and negotiations with affected stakeholders.
"SHE Transmission has worked hard to understand the views of the community whilst taking account of its licence obligations to develop and maintain an efficient and coordinated transmission system."
"Following review of technical, environmental and economic factors and taking account feedback from the members of the public, the project development team is confident a balanced proposal has been reached."