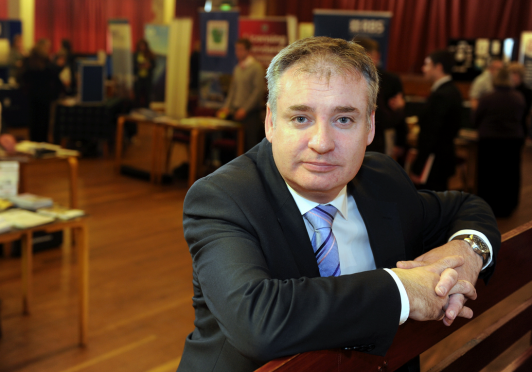 Pressure is building on an energy firm who want to build overhead power lines through the Moray countryside.
A group of residents have banded together to oppose Scottish Hydro Electric Transmission's plans for the electricity poles, which will connect Dorenell windfarm to the Blackhillock substation near Keith.
Fears have been raised that the unsightly pylons will put tourists off visiting nearby Dufftown, while also affecting the scenic landscape.
Now MSP Richard Lochhead has added his concerns, and has written to the power giant calling for an investigation into how the power lights can be kept out of sight.
The energy firm is proposing to build a 14-mile stretch of 78ft electric poles to connect the Dorenell windfarm to the Blackhillock substation near Keith.
Mr Lochhead said: "I have been contacted by quite a number of constituents who are extremely worried about the impact that overhead cabling will have on the local landscape.
"Local businesses are worried about the impact on the tourist industry and others are anxious about the effect on an area which is designated as an area of great landscape value.
"That is why I think that investigating undergrounding the cables merits serious consideration. This, to me, is the best of both worlds.
"Undergrounding would get the two sites connected but would alleviate local concerns and worries."
Engineers from Scottish Hydro Electric Transmission previously ruled out routing the cables underground due to the cost and difficulty in maintaining them.
A lobbying campaign has been launched by locals in Dufftown to put pressure on politicians, Moray Council and Historic Environment Scotland.
B&B owner Alistair Jeffs is encouraged by Mr Lochhead's calls for more options to be looked at for the project.
He said: "A lot of people come to use having driven across the Cabrach and found it beautiful. If it's covered with windfarms and pylons they are not going to come back.
"Underground cables should be looked into and the price made public so people can make their mind up whether it's worth it or not."
A spokesman for Scottish Hydro Electric Transmission said composite poles, designed to resemble wood, were being used to reduce the effect on the landscape.
He said: "We work hard to avoid, reduce or mitigate any adverse impacts associated with our work, whilst delivering the most economically advantageous solution."