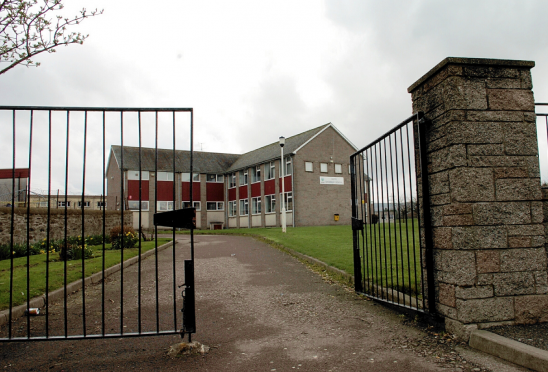 Crumbling schools across Moray could be closed to save the cash-strapped council paying out nearly £60million in repairs.
Shock figures show that 42 out of the 53 schools in the region do not meet the minimum standards, and that it would cost £57million to bring them up to standard.
Council bosses have warned they face a "significant challenge" to prevent the emergency closure of school buildings due to health and safety and legal breaches.
Keith Grammar, Burghead Primary and St Sylvester's Primary have been singled out as the worst in the region.
Elgin High tops the risk list, although work has already begun £30million replacement.
A damning report is due to be presented to the council's audit and scrutiny committee next week detailing the magnitude of repairs needed.
Last night council convener Allan Wright admitted permanently shutting schools in the region would allow the local authority's resources to stretch further to meet the "insurmountable" bill.
He said: "I believe there are too many schools in Moray for the number of pupils we have, the geography and the shortage of teachers we have."
But he stressed local residents would get their say before any decision was made as part of the authority's budget consultations in autumn.
He added: "If you are faced with, say, 10 potentially difficult ideas then it's only right that you go to the general public. People need to appreciate that difficult decisions will have to be taken."
Uneven floors, old boilers and electrical wiring needing replaced are among the concerns contributing to the bill. Concerns have also been raised the suitability of classrooms in older buildings to teach sciences.
Contingency plans have now been called for in the event that pupils have to be taught elsewhere.
And committee chairman Gordon McDonald said any decision to shut a school would only be taken as a "last resort".
The SNP councillor said: "If the situation is as serious as it looks then you would have to look at decanting school children elsewhere or bringing in temporary accommodation.
"Nobody has come forward with those suggestions yet.
"I would hope that the administration will have a plan for contingencies if something drastic does happen."
Investigating ways of stretching existing budgets, including replacing inefficient boilers, was raised by the Buckie councillor as a way to eat into the repair bill.
Rooms within Keith Grammar are currently unusable due to them not meeting fire regulations.
Last night SNP councillor Gary Coull called for the school to be next in line to be replaced.
He said permanent closures should only follow if learning will improve, adding: "Keith Grammar was built in the 1960s and is of its time. We've seen a lot of buildings built at that time need repaired and replaced.
"There are buildings with particular issues and they need to be addressed. It's a huge challenge. We should focus on improving teaching instead of the bricks and mortar."
Mr Wright confirmed there was not any discussion about any schools not opening for the new term next month. Refurbishment projects are already underway at four primary schools.