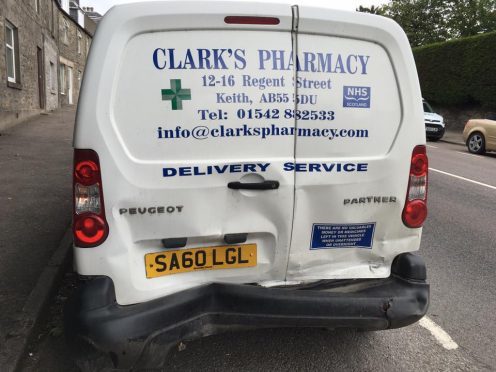 A hit-and-run driver caused thousands of pounds of damage when they rammed the back of a Moray chemist's van.
Colin Clark's Peugeot vehicle was left a write-off after being hit while it was parked outside his premises in Keith's regent Street.
The van was struck with such force it was shunted up a hill and on to a pavement.
The damage has been estimated at £4,500.
Mr Clark, who runs Clark's Pharmacy in Keith, said: "The other vehicle hit it really hard, it's caved the back in and knocked it uphill and on to the pavement.
"Then whoever did it must have reversed and driven away."
Police believe the other vehicle involved was an "older style" silver Land Rover Discovery.
Mr Clark said: "The van's chassis was buckled, we have had an assessor visit us and it has been written off.
"Initially I thought it might have been a lorry that hit it, because of the damage done."
Police believe the incident took place around 11.20pm on Sunday, July 10, and have appealed to the public for help in identifying the culprit.
Constable David Baird said: "I am keen to hear from anyone who may have seen an older style silver Land Rover Discovery in the vicinity of Regent Street around the time of the collision.
"I would also appeal to anyone who may have seen a vehicle of that description with damage to the front of it parked within the Keith area to get in touch."
Mr Clark praised his staff, who carried out deliveries using their own cars while the pharmacy was without transport.
He said: "The employees found the van mounted on the pavement when they went to open the shop the following Monday morning, and reported it to the police.
"The staff were excellent, they really pulled together and did deliveries in their own cars and in their own time until we got a hire van about a week after the crash."
He said his insurance firm had since paid out to cover the cost of a new van, and business has returned to normal.
Police have urged anyone with information on the incident to contact them on 101, or Crimestoppers on 0800 555111.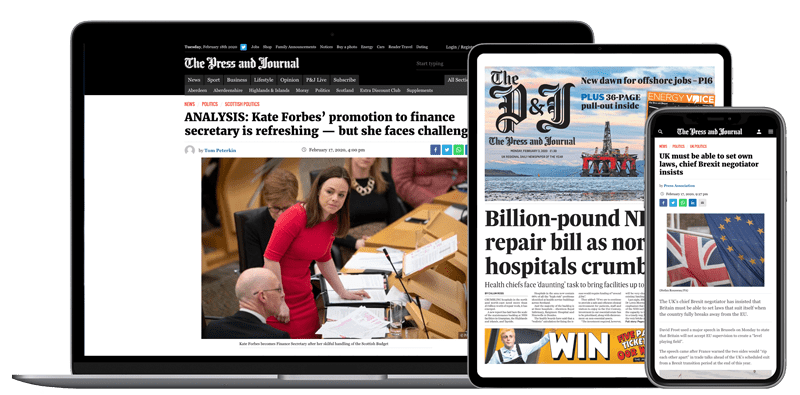 Help support quality local journalism … become a digital subscriber to The Press and Journal
For as little as £5.99 a month you can access all of our content, including Premium articles.
Subscribe