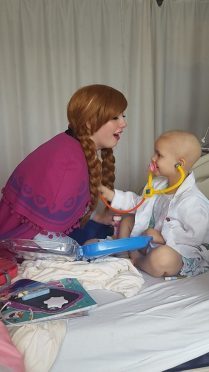 A new campaign has been launched to raise funds for a Moray youngster battling cancer for the second time.
Wristbands emblazoned with Eileidh Paterson's name are being sold to help her fight the disease.
Eileidh became an inspirational figure across the north-east and beyond when she overcame neuroblastoma – an aggressive childhood cancer.
Wellwishers raised more than £100,000 to secure her a place on a pioneering drugs treatment programme in America – designed to prevent the condition returning – after she got the all-clear.
But Eileidh's family were left devastated when she relapsed earlier this summer, and she has since been undergoing gruelling chemotherapy sessions at the Royal Aberdeen Children's Hospital.
Proceeds from the wristbands will fund further drugs trials abroad.
They were produced by Glasgow fundraiser Steve Taylor, who also undertook a 25,000-mile cycling challenge to help spotlight neuroblastoma.
They have the slogan "Eileidh's Journey" on one side, and "Life Cycle for Neuroblastoma" on the other – in reference to his crusade.
The four-year-old's mum, Gail Paterson, of Forres, has become a champion for the Solving Kids Cancer charity since the youngster was first diagnosed more than two years ago.
She has now appealed to shops across Moray to stock the £5 wristbands.
She said: "The money will all go towards Eileidh's fund, or will be used to buy more wristbands should we need them.
"We are looking into different ways of funding other trials abroad, and have a few different ideas.
"We'd be very grateful to anybody that could help us in any way."
The accessories can be purchased via donations made at www.justgiving.com/fundraising/eileidhsjourney.