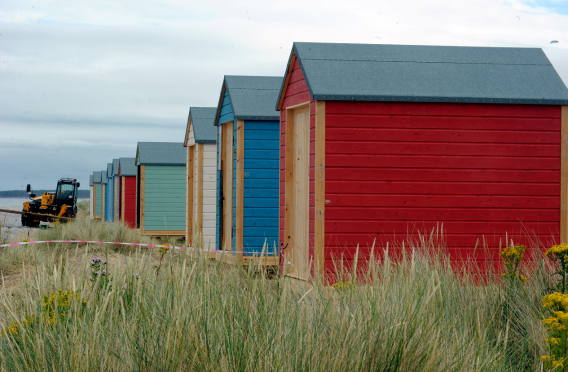 Protestors against a Moray beach development have insisted their fight goes on, despite losing a lengthy legal battle.
The 1 Architects firm stoked up controversy last year when it gained permission to create a row of 30 multi-coloured huts along the North Beach at Findhorn.
Campaigners opposed to the scheme argued the development would devastate a stretch of "unspoiled" shoreline, and mounted a legal battle to prevent construction.
However, a judge at the Court of Session in Edinburgh allowed the project to proceed, and work is now under way on the first phase of the development.
Contractors have already constructed 10 of the huts, which are each worth £25,000, with another five due to follow later this summer.
But, in an attempt to redress local concerns, 1 Architects has now applied to revise their original proposal.
They now intend to build two banks of 15 shelters – rather than the block of 30 which was originally envisaged.
Managing director Ian Sutherland McCook said: "There were a couple of constructive comments that it would be better to have wider spacing.
"This is an opportunity for us there to reduce the kind of accusations that our original layout was for a wall of huts."
But campaigner Maureen Hyde believes that villagers' original complaints remain valid.
She added: "It will still be just as bad, there are still going to be 30 beach huts along the coast and it doesn't matter if they're in one line or two.
"Our concerns are that this will change the nature of the beach, with people stamping and trampling on the ground."
The huts were given the go-ahead during a heated meeting of the council's planning committee last May.
Original design drawings showed the shelters to be slightly staggered along the seafront, but under the new proposal, half will be sited three feet behind the rest.
The second batch will be positioned in such a way that every hut will have a view of the sea.
Work on creating the remainder of the shelters will begin after the busy tourist season.
In fresh documents submitted to the local authority, 1 Architects explained that the structures could be built on the same stretch of land, while being kept hidden from the nearby car park.