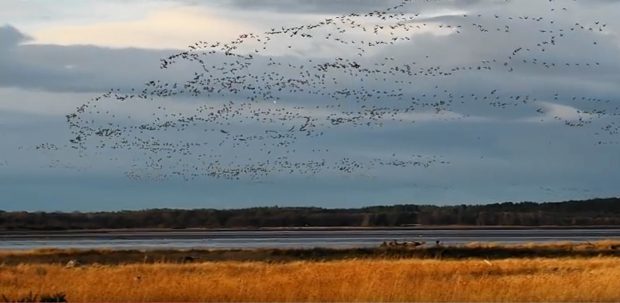 Campaigners have declared an uneasy truce in their battle to stop wildfowlers shooting geese at a Moray beauty spot.
Hunting will resume at Findhorn Bay when the season opens next month – with new restrictions in place to limit when and where guns can be used.
Protesters say they are willing to "test" the new arrangements, but have no plans to end their fight to have the practice banned.
They claim bird watchers will be observing flocks from one section of the bay – while wildfowlers attempt to shoot them from another.
The Friends of Findhorn Bay group had urged Moray Council to introduce a byelaw barring wildfowlers from the picturesque stretch of coastline.
They claim the killing of geese and other birds conflicts with the shore's status as a nature reserve – and collected more than 800 signatures on a petition asking the authority to shooting.
But wildfowlers fought back and the local authority stepped in to try to find a compromise.
When the new hunting season opens on September 1, there will be a series of restrictions in place.
There is to be no shooting at Findhorn Bay during Mondays and Tuesdays, which will be reserved for bird watching.
And shooting on the eastern stretch of the bay will be prohibited after 10am.
Last night, campaigner Louis Bezuidenmout said: "It is our hope that this arrangement will have a beneficial influence on the coming shooting season, and it will be reviewed after that.
"Lessons will be learnt from it, and these lessons will have an impact on future discussions about what is appropriate.
"But our view is that the arrangement does not represent a real and a fair compromise, the changes mean that shooters will be shooting the geese from one angle while bird watchers are watching the very same flock of geese as they fly from the bay.
"We have voiced our dissatisfaction about this, but the shooters were not prepared to accommodate our proposals.
"However, in a spirit of goodwill, we have decided to co-operate with the new arrangement during the coming shooting season."
Martin Gauld, who launched the Support Findhorn Bay Wildfowlers campaign, said he and his fellow hunters were "content" to abide by the new restrictions.
He said: "We have agreed to a number of terms, which we are happy enough with.
"We can go somewhere else on the days when we can't shoot at the bay.
"The protestors asked for a lot, they wanted a limit of five guns at the bay each day.
"That would cause the area to lose a ridiculous amount of money, people would have to close their businesses."
Signs and fencing will be erected to keep wildfowlers away certain sections of the bay during the agreed hours.