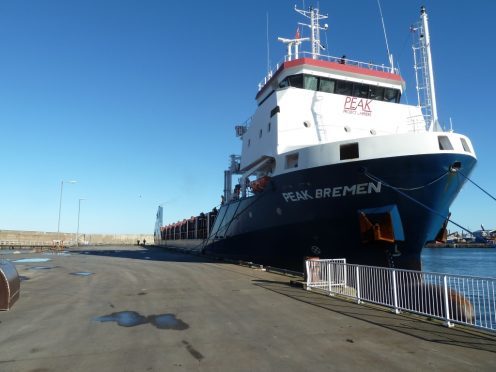 The arrival of a massive cargo vessel into a Moray port has been hailed as evidence of the harbour's huge potential to attract foreign visitors.
The MV Peak Bremen delicately manoeuvred itself to a berth at Buckie yesterday morning.
Thereafter, the crew on the 300ft-long shipping craft kept a watching brief on the diminutive gap between the hull and the quayside as it edged into the port.
It is understood that the open-top cargo boat is one of the largest ever to moor at Buckie.
Locals could not help but marvel at the scale of the vessel, which dwarfed all the other vessels in the vicinity.
Last night, John Cowe, chairman of the council's economic development committee, argued the arrival of the huge craft was evidence of the region's shipping potential.
Moray Council has been marketing the former shipyard at the port as a potential site for cargo handling, renewable energy and manufacturing, and doing so on a global basis.
The site is currently under offer and Mr Cowe explained the port had now moved beyond its fishing heritage to fulfil a wide number of uses.
He said: "The arrival of this impressive vessel confirms just how versatile Buckie harbour is and underscores just what an important piece of infrastructure it is in terms of its economic value to Moray.
"The harbour is a huge asset to the local economy, not least for those local manufacturing and engineering companies who use it to export their products.
"This vessel's imposing presence demonstrates that its [the harbour] potential is massive."
The MV Peak Bremen is expected to leave Buckie on Thursday morning after being loaded with equipment for the offshore oil industry.
The hull of the cargo craft has been strengthened by specialists to enable it to carry heavy cargoes.