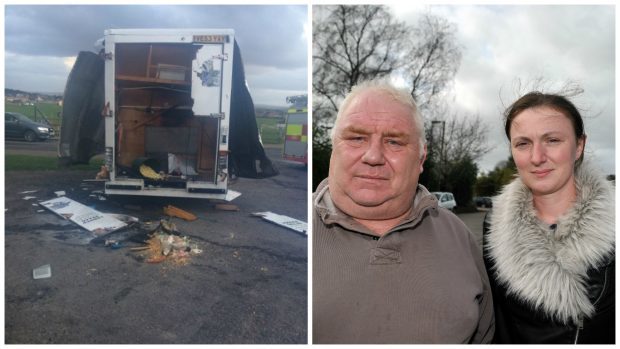 An explosion that blew the doors off a chip van while a pregnant fryer was inside could easily have killed someone, its owner said.
Staff working in the Buckie-based Codfather mobile takeaway were knocked off their feet by the blast as they were closing up on Tuesday.
Mum-to-be Melissa Carr was taken to Dr Gray's Hospital by ambulance for a precautionary check-up on her unborn baby and was allowed home that night.
But owner Colin Halley said it was lucky the incident in Lossiemouth, near to a school, did not happen while the van was open for business.
"If there had been any public passing at the time then they would have been killed," he said.
"The only saving grace is that nobody was there.
"I had just been there to switch off the gas canisters and generator.
"By the time I walked to the front, bang, the doors had been blown off.
"It was just a regular job until then. Luckily it was when we were closing up and there were no customers around."
Lossiemouth locals immediately rushed to the scene and the flames were put out before the fire service arrived.
Residents offered staff cups of tea and blankets while the emergency services began their investigations.
Seconds after the explosion on Tuesday evening Mr Halley immediately threw gas bottles clear of the flames on the vehicle to prevent further blasts.
And he amazed himself by somehow summoning super-human strength to lift the generator, which he suspects was the cause of the explosion, out of the van to safety.
"It usually takes four of us to lift the generator. I have no idea how I did it myself," he said.
Fryer Lori Allan was knocked off her feet inside the van when the generator exploded.
She said: "Everything was normal, I was just cleaning the floor. Then it went bang, that's when the roof came down and hit me.
"I didn't know what had happened. I just lay there at first, I could see the fire though. I just legged it. It was so frightening."
The pair relived the traumatic event as the chip van remained sealed off at a breakdown yard in Elgin.
Last night Mr Halley vowed to return to the Moray roads with the "Codfather Part Two" later this year.
The business owner fears the current van, which underwent a £3,000 refurbishment ahead of serving up suppers at a festival in Monaco in October, could be a write-off.
He added: "It's in the hands of the insurance company now. It's totally wrecked so I don't think it'll be able to be fixed.
"We've had so much support from customers in lots of towns so we'll definitely be back."
Mr Halley added that the firm's shop in Buckpool would continue to trade as normal.
A fire and rescue service spokesman said: "The van was in Lossiemouth, next to Lossiemouth High School, when there was a fire inside.
"We got a call-out at 7.25pm on Tuesday, sending two appliances. There was one female casualty who was treated by the ambulance service."
The blaze was extinguished at about 8pm.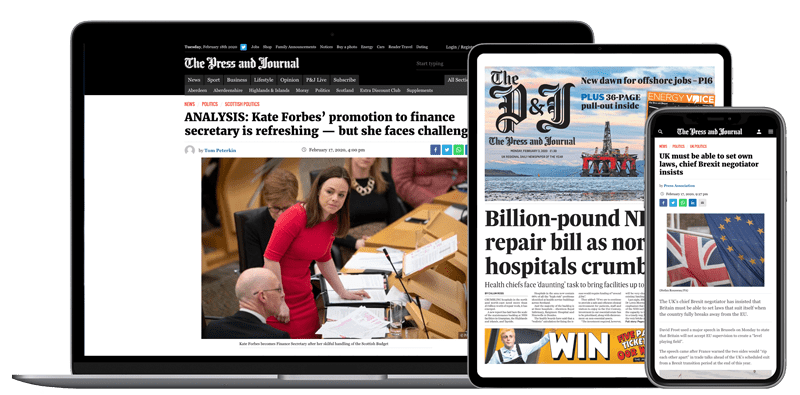 Help support quality local journalism … become a digital subscriber to The Press and Journal
For as little as £5.99 a month you can access all of our content, including Premium articles.
Subscribe