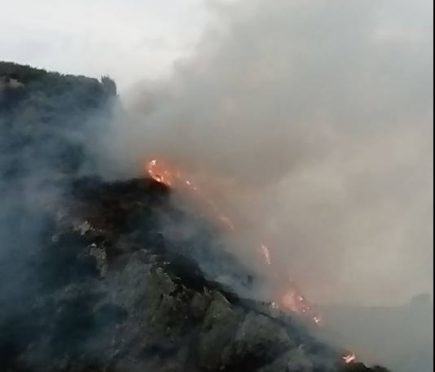 Firefighters were called to cliffs along the Moray coastline after a campfire surged out of control and sent flames spreading more than 50 yards.
The fire engulfed gorse and grass along the rocks between Cullen and Portknockie at about 10.30pm on Saturday night.
The fire service later confirmed the flames had covered a patch measuring 165ft by 165ft.
Crews spent more than three hours getting the situation under control, and remained at the scene yesterday hosing water down the blackened cliff-face to prevent the blaze from reigniting.
It is thought that the incident stemmed from a camp fire set up in a cave along the seafront.
Cullen Community Council member, Dennis Paterson, described the efforts to prevent a flare-up that continued into yesterday.
Mr Paterson said: "The fire crews have been standing at the top for hours, hosing water down the brae.
"There is a lot of damage to one promontory between Cullen and Portknockie, and along an area behind it.
"There had been word about a group of young people with a camp fire set up at Preacher's Cave, which is a popular gathering point on sunny days.
"Grass can be a terrible fire hazard, especially given the warm weather we had last week and at the weekend.
"I'm hopeful that any wildlife that might have been affected would have been able to move along to gorse, either east or north of the fire."
Temperatures soared to 26C at the scenic coastal spot on Saturday afternoon and sun-seekers descended on the beach and nearby caves to enjoy the warm weather.
A fire service spokeswoman added: "The call came in at 10.31pm on Saturday night, about an area of gorse and grass that was well alight between Cullen and Portknockie.
"By the time crews arrived, the fire had covered a patch of about 165ft by 165ft.
"The firefighters used beaters and sprayers to dampen down the area, and the last appliance left the scene at 1.59am.
"Crews returned on Sunday, to make sure the fire did not spark up again."