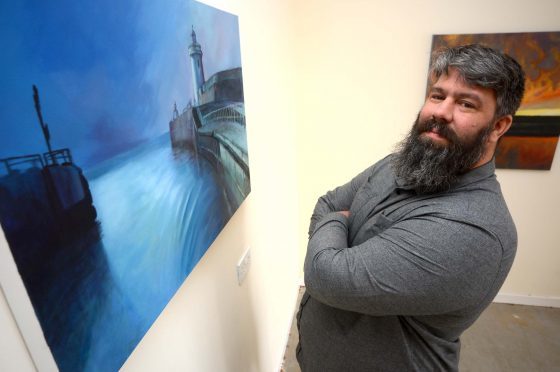 Moray's biggest port has become the subject of an art exhibition, with paintings reflecting both its decline and hopes for a vibrant future.
Daniel Fairbairn was made redundant during the oil downturn last year, and is now attempting to make a living through art.
The dad-of-two has had a lifelong passion for painting and staged his first exhibition at Dufftown's Glenfiddich whisky distillery this spring.
And the Portgordon resident has now decided to capture the hidden beauty of Buckie harbour in a specially themed series of work.
Mr Fairbairn said he was inspired by how the port's crumbling fortunes, caused by the deterioration of the fishing industry, mirrored his own experiences.
He said: "When I came up with the idea, there seemed to be no future for Buckie Shipyard and parts of the harbour are really run down.
"I felt a connection with how the shipyard felt past its purpose, through losing my job offshore.
"The history of the harbour is felt by a lot of people in the area too, and I wanted to focus on something important to the community.
"Also, my dad was a coastguard so I have been around the coast and harbours for all of my life, I've always had an affinity with the sea."
Since Mr Fairbairn started the project, Buckie Shipyard has been bought by Macduff Shipyards – who have pledged to invest £1million in revitalising the port.
One image, entitled Phoenix, reflects the surging hopes which followed the announcement last month.
Phoenix shows the vast hangar at dawn, with a pink and blue sky in the background.
The exhibition will begin today at 16 Marine Place, a spot adjacent from the harbour.
Mr Fairbairn hopes that converting the abandoned fancy dress shop into a temporary art gallery will add a splash of colour to the harbour area.
He added: "My last exhibition at Glenfiddich was a success, and I want to keep that momentum going.
"I feel like my work is getting stronger.
"I'm not making a living through art yet, but I'm certainly not being discouraged."
The exhibition will run for at least a fortnight, and will be open between 10.30am and 4.30pm.
More information is available at www.coastoriginalart.com