A woman has died after being found engulfed in flames – despite desperate Buckie residents racing to help with buckets of water.
The 63-year-old was found several feet down an embankment near a bench on Land Street in the Buckpool area.
Locals originally thought there was a grass fire, but when they went out to investigate, they discovered the woman.
They raced to help the woman, who was still attempting to move, but she later died after being taken to Dr Gray's Hospital in Elgin.
Police last night said they were investigating the incident, and that they are treating it as "unexplained".
The area remained sealed off yesterday, with forensic officers spotted combing the shrubbery for clues.
The woman is believed to have been living in Buckie, but was originally from Eastern Europe.
George Sutherland, who lives on Land Street, raised the alarm after smelling burning in his back garden late on Sunday evening.
He said: "When I got over there I didn't know what I was going to find. I thought kids had maybe set fire to the bank or something.
"I couldn't believe what I was seeing – I couldn't make out if it was a man or a woman at that point. It stopped me in my tracks."
VIDEO: Death probe launched after woman found on fire in Moray town
Seaview Road resident Betty Murray grabbed a bucket of water to try and help the woman.
She said: "We got water and doused her as much as we could. I couldn't have left her burning there like that. It was a terrible thing to see.
"She was sitting on the bench earlier in the night but when I saw her she was well away from it down the bank."
Yesterday police combed through the thick shrubbery in an attempt to establish how the woman became engulfed in flames.
Forensic officers wearing masks used poles to sift through the vegetation to search for clues.
A cordon was set up around the park bench at the Land Street and Seaview Road junction as police took statements from witnesses.
Buckie councillor Sonya Warren praised the immediate action from local residents to rush to the woman's aid while calling the emergency services.
She said: "It's such a tragic thing to happen and such an awful thing for these people to have witnessed.
"It's nice that people were concerned enough to do all they can to help. It shows there's a strong community spirit in Buckpool – it's the sort of place where people really do look out for each other and do all they can to help each other."
A police spokeswoman said: "We were called to the Land Street area with the ambulance service at about 7.30pm on Sunday evening after the woman was found injured.
"She was taken to Dr Gray's Hospital in Elgin but later died. Inquiries are at an early stage and the death is currently being treated as unexplained."
Anyone who was in the area between 7.15pm and 7.30pm on Sunday evening or knows the woman's movements before then should call 101.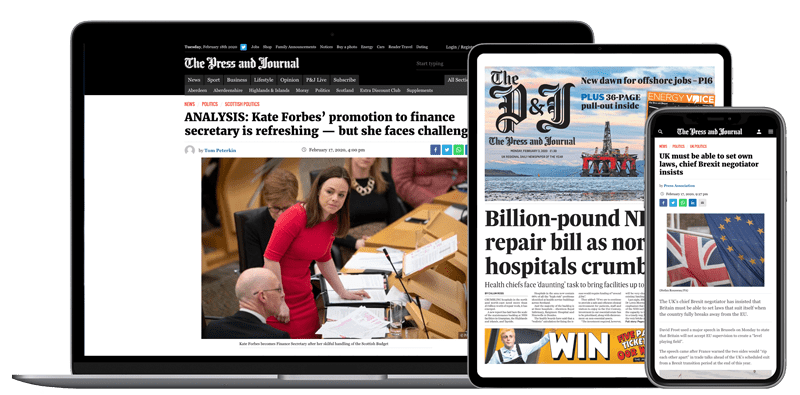 Help support quality local journalism … become a digital subscriber to The Press and Journal
For as little as £5.99 a month you can access all of our content, including Premium articles.
Subscribe