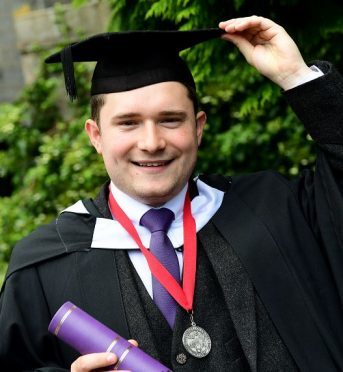 A Buckie student who clocked up more than 1,200 hours of volunteering and won six awards during his time at Robert Gordon University has landed a "dream" job in the Supreme Court.
Tom Sadler, 23, originally began his university career in 2011, studying social work, but as a 17-year-old felt he didn't have the necessary life skills to fully appreciate and contribute to the subject. After taking a year out to decide what he really wanted to do, he opted for law and management.
Now he has secured a job in Edinburgh, as deputy clerk, and explained: "I always had an interest in law, but had never truly been interested in becoming a solicitor.
"As I found the legal side particularly interesting, the balance between law and management modules really attracted me to this particular course."
Mr Sadler started volunteering when he arrived at university and, in 2011, was involved in setting up the RGU: LGBT+ Society.
In 2014, together with fellow student Steve Mills he founded RGU: Nightline – a student listening service.
Mr Sadler explained: "As co-chairs, we built the peer-to-peer voluntary listening service from the ground up with a small but incredibly dedicated team and this has to be one of the things I'm most proud of.
"That involved everything from recruitment to stakeholder meetings to being on call to assist volunteers. I stood down from the role in 2016 to free up time to focus on my final year and was elected Head of Recruitment instead.
"Earlier this year, I was elected Scottish Regional Coordinator of the Nightline Association, the charity that supports and develops Nightlines across the UK and that's a role I'll continue with now that I've graduated."
Mr Sadler said the time he spent volunteering was invaluable for his personal development and he also hoped it had benefited his peers and the staff at RGU.
During the course of his university life ,Mr Sadler received the Student Achievement Award (2012), Student Contribution and Involvement Award (2014), Volunteer Award (2014), Half Scarlet with Continued Excellence (2015), Half Scarlet with Distinction (2016) and Full Scarlet (2017).
His career is now taking him to Edinburgh where he has secured a position with the Supreme Court.
Mr Sadler added: "My time at university helped me develop from a quiet teenager with little confidence to a confident graduate.
"Volunteering developed skills that directly helped me secure an exciting opportunity in the justice sector."