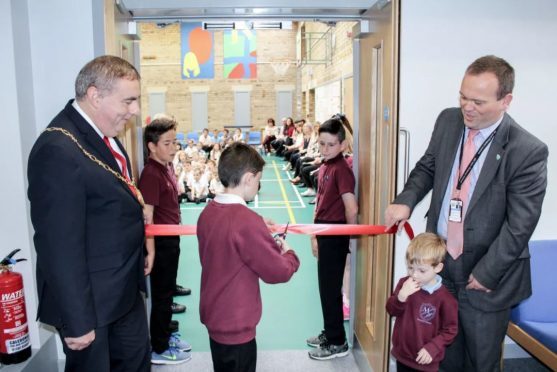 Moray children have cut the ribbon to officially open a £4.6million refurbishment of their school.
The oldest and youngest pupils at Millbank Primary stood side by side to carry out the ceremony yesterday.
Four new classrooms have been added to the Buckie school during the extensive works.
Replacement boilers, doors and insulation were also fitted to improve the energy efficiency of the buildings.
Council convener James Allan said: "Inside the school, the transformation is obvious and, as you approach it from the outside, the cladding brightens up the surrounding area.
"It really does make the school a special feature and central to the east of Buckie.
"The Millbank community now has a school fit for the future.
"This is our vision for all children in Moray as we work hard to provide similar learning environments for all of our children and young people."
The work at the Buckie school was done by contractors Morrison Construction, with funding from the Scottish Futures Trust and Moray Council.
After the ceremony, a special assembly was held for the children to tell them about the improvements.
The electrical wiring and plumbing in the buildings have also been improved, along with an upgrade to the roof.
Buckie councillor Tim Eagle, chairman of the council's children and young people's committee, believes the improvements could help make teaching in Moray a more attractive proposition.
He said: "This investment in the school is for the benefit of the children who attend Millbank now and in the future.
"We're also investing in the teaching profession here in Moray by creating modern work spaces for teaching in the 21st Century."
Buckie councillor Sonya Warren added: "It's fantastic to see the quality of the refurbishment at Millbank, which was made possible by an investment from the Scottish Government and Moray Council.
"It has allowed a major revamp of the school, which will provide fantastic facilities with lasting benefits for the children."