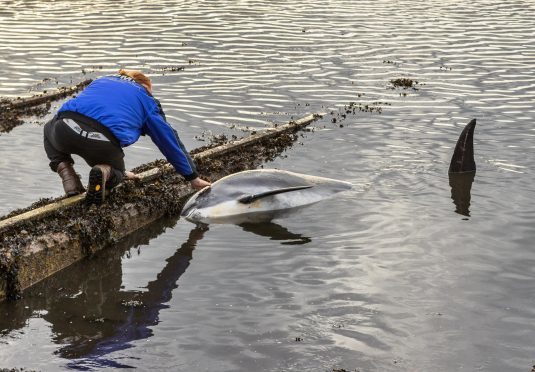 A rescue effort ended in sadness yesterday after a distressed dolphin died after spending hours circling in a north-east harbour.
Marine experts raced to Buckie following reports that the "confused" adult male had been seen swimming near boats and almost hitting the harbour wall for at least eight hours.
Just as the British Divers Marine Life Rescue (BDLMR) members were preparing to force the dolphin to strand so that they could treat it, the animal made a beeline for a lifeboat ramp.
The dolphin mounted the ramp and thrashed itself against the ground until it died.
Cath Bain, co-ordinator for the Moray branch of the BDMLR, was one of the crew who had been on hand to try and bring the animal to safety.
She revealed that the dolphin was not one commonly spotted in the Moray Firth.
The wildlife enthusiast added: "The dolphin was obviously unwell, and the condition of its body indicated that it had not been eating properly for some time.
"There were no obvious injuries, other than scrapes we think it picked up in the harbour.
"As soon as it got into the last section of the harbour, where the lifeboat is, it just went straight up the slip and stranded.
"These white-beaked dolphins are a deep water species, we don't see them inshore very often."
The dolphin's body was last night taken to a Scottish Marine Animal Stranding Scheme facility in Inverness to undergo a post-mortem which will establish the cause of its illness.
Drybridge resident Paul Wardill raised the alarm at about 7am, after stopping by the harbour to enjoy the sunrise.
Mr Wardill, who captured video footage of the dolphin circling the port, said he noticed its condition worsen during the day.
The 43-year-old added: "The dolphin was definitely confused, and was going very close to boats and brick walls.
"In the morning it was still upright and looking well enough.
"By the afternoon, the dolphin was listing to the left and didn't look right at all."
Workers from Macduff Shipyard later used a crane to bring the dolphin out of the harbour.
People can learn more about joining the BDMLR at www.bdmlr.org.uk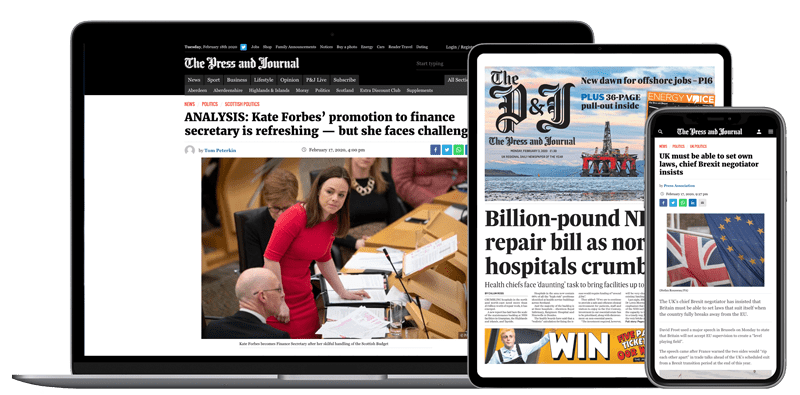 Help support quality local journalism … become a digital subscriber to The Press and Journal
For as little as £5.99 a month you can access all of our content, including Premium articles.
Subscribe