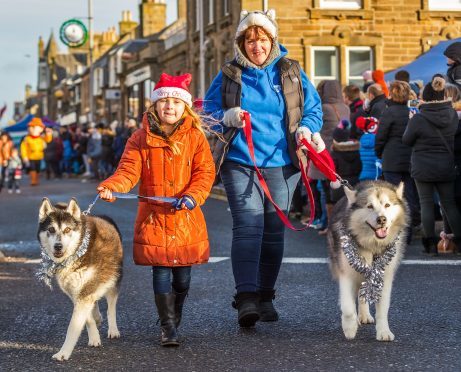 More than 3,000 people packed into a Moray town centre at the weekend to kickstart the festive season across the region.
Cluny Square in Buckie was transformed into a gig venue for the day as part of the town's seventh annual Christmas Kracker.
Despite the chilly and blustery conditions, about 3,500 people still ventured out to take part in the festivities.
Strong winds from the Moray Firth resulted in the organisers moving forward the start of the fireworks display, which was launched by Coronation Street actor Mikey North, better known as Gary Windass in the soap.
However, the weather did not put off the crowds from staying out after dark to see the town illuminated in a multitude of colours in the run up to Christmas.
Festive party-goers started arriving in the town centre in the morning for the event, which was officially opened by pupils from Millbank Primary School.
One of the biggest attractions was the chance for children to get their picture taken with Buzz, Woody and Jessie from the movie series "Toy Story".
The film characters joined a parade headed by Santa and Buckie Pipe Band, followed by huskies and a horse dressed as a reindeer, with toys being donated to the children's ward at Dr Gray's Hospital.
Later, youngsters shouted out lyrics and performed dance moves to Little Mix hits while tribute group Little Fix were on the main stage for an energetic concert.
A fire engine and lorry, which had been set up in the square, also gave children the chance to sample what life is like in the driver's seat while parents warmed themselves from food from the heated marquee.
Gordon Cowie, vice-chairman of the organising committee, said: "We had a great crowd all day, there must have been about 3,500 people at it.
"It's great to see the town busy with so many residents coming out to support it. We want to put on something for the whole town and get people into Buckie to see the shops we have, that's why it started.
"The main stage was busy all day and it was great to see everyone enjoying it."