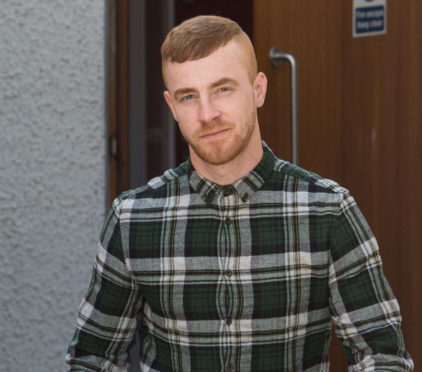 A motorist has been jailed after leaving a trail of destruction in a Moray town while high on drugs – including crashing into the side of a school.
KC Devlin stole a pensioner's car, speeding off while Kaylana Murray's hand was reaching inside her grandmother's vehicle in an attempt to prevent his escape.
Witnesses described seeing the Ford Fiesta drive at up to 50mph through Buckie with the 26-year-old at the wheel.
A headlight broke off the damaged vehicle as Devlin "weaved across the road", hitting several parked cars, clipping the canteen at Buckie High School and becoming entangled in a fence.
Police eventually stopped him after calls from several members of the public on February 11.
When officers apprehended Devlin, who has a five-month-old child, he swallowed a "white powder" before admitting he had taken diazepam and heroin earlier in the day.
Yesterday the motorist was locked up after he appeared for sentencing at Elgin Sheriff Court.
Fiscal Kevin Corrins explained the Buckie resident had initially gone with Miss Murray, who had permission to use the car, to look for her partner, who was Devlin's brother.
However, when the woman got out of the car on Queen Street, Devlin got into the driver's seat and moved the car.
Mr Corrins described her seeing her gran's car collide with the wall at Buckie High School's canteen as she gave chase.
He said: "Miss Murray manages to catch up on foot and she does open the driver's door.
"She reaches in to put the car in neutral and take the keys but at that point the accused accelerates away. Miss Murray is able to jump clear of the car but her elbow is struck."
Devlin was next spotted driving down North Pringle Street while with another man in the passenger's seat.
Mr Corrins added: "The car stops for a while before speeding off again. It's also seen to be reversing erratically.
"A parked car gets knocked onto the pavement after getting struck and witnesses saw the car weaving all over the carriageway at speed."
Witnesses described Devlin as looking "spaced out" behind the wheel as he continued "swerving continuously", hitting more cars and a fence.
When police caught up with the car they "ran up behind" to get it to stop on Main Street before apprehending the driver.
Defence solicitor Shahid Latif said: "What would otherwise be inexcusable conduct is made slightly more excusable because of his drug use at the time.
"It is an incident that he bitterly regrets."
Devlin, of Douglas Crescent in Buckie, was jailed for 218 days and banned from driving for 42 months after pleading guilty to charges of taking a car without the consent of the owner, dangerous driving, driving while unfit through drink or drugs and attempting to pervert the course of justice by swallowing a white powder believed to be drugs.