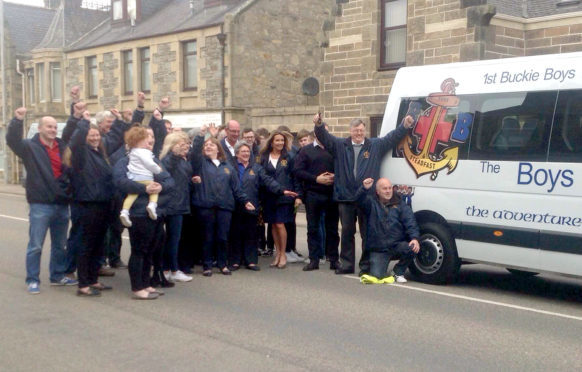 A kind-hearted businessman has stepped in to help a Boys Brigade group after the youths missed out on winning a state-of-the-art minibus in a recent Press and Journal competition.
The 1st Buckie group, which celebrated its 70th birthday in December, collected enough newspaper tokens for 170 entries in the prize draw.
Family and friends gathered an impressive 8,500 tokens – close to 10% of the 92,000 total handed in by 135 community groups across the north and north-east – over a couple of months, but they were unsuccessful.
The group missed out when the winning 1st Methlick scout troop scooped the prize in the Nexen sponsored draw at the end of March.
BB company George Chapel said many of the local residents had helped out in the hope they would win.
He said: "The call went out for everyone to collect the draw tokens.
"It did not fall on deaf ears, the parents and friends responded in a way they had not anticipated.
"You can imagine how the company felt not winning after that fantastic effort."
However, yesterday leaders of the group were in for a big surprise when the owner of local business Regency Car Sales arranged to meet them and handed over the keys for a brand new £37,000 17-seater minibus.
Business owner Charles Milne wanted to help out as soon as he heard the youths from the largest BB company in Scotland had missed out.
And their new minibus has even been completely branded up – proudly bearing the company's name and logo on the side of the vehicle.
Mr Milne said: "The 1st Buckie Boys Brigade is a stand out organisation with dedicated officers that work tirelessly bringing on the young people in the Buckie area.
"The new bus will give the company the ability to plan more events without increased costs.
"It is with thanks to our customers buying local that we are able to support community organisations like the Boys Brigade."
The bus was used for its first outing yesterday, taking some of the group members to Ballindalloch Castle where they were volunteering as stewards for a cross country run.
Mr Chapel added: "Instead of entering a lottery, 1st Buckie Boys Brigade has hit the jackpot."
After being gifted the minibus yesterday, 1st Buckie Company leader Alan McIntosh said: "It was totally unexpected. We are all over the moon and I couldn't believe it.
"This will open up a number of different avenues for us in terms of what we can give the boys.
"We are now in a position to offer transport for excursions we couldn't have done in the past."