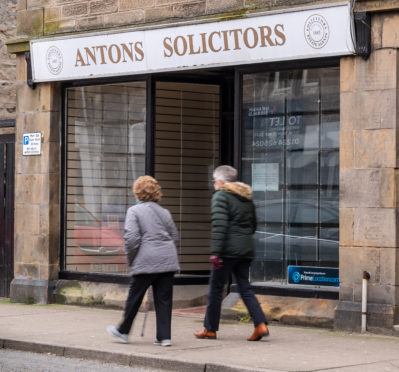 Clients of a Moray solicitor that suddenly closed have been told that their documents including wills and title deeds have gone missing.
Buckie-based Antons, which was formed in 1885, shut without warning last month leaving many clients without access to their files.
Two other firms in the town have taken possession of the paperwork, which has been split alphabetically, but some locals have reported they have not been told what has happened to their documents.
Meanwhile, mystery surrounds the reason behind the sudden closure of Antons, whose solicitor partner was Stephen Harper.
A joint statement from the firms who have taken over the workload, Alexander George and Co and Stewart and Watson, explained they had been handed a "colossal" task to sort through the files.
It said: "We appreciate that individuals are concerned and anxious regarding their paperwork and we are trying our best to help them in what is turning out to be a very difficult and time-consuming situation.
"We have already discovered that we have been unable to locate some paperwork which we have been asked to recover.
"Whilst we appreciate some individuals may be upset by this we wish to point out that we are not to blame and are doing our best to help."
The firms stressed they were merely storing paperwork until clients decided what they wished to do with them.
A notice has been pinned to the shop window at Antons and the office has been cleared of all items except a reception desk and some chairs.
Last night, the Law Society of Scotland confirmed the closure of the company and offered to help anyone who is struggling to locate documents.
A spokeswoman said: "The firm's wills title deeds and power of attorney documents have been passed to two local solicitor firms.
"The Law Society will secure all remaining client files. Any client who wishes to locate their will, title deeds or power of attorney should contact the tow local solicitor firms in the first instance.
"We understand clients of Antons may have concerns about locating their files and if a client has an ongoing case or an urgent inquiry, they can contact the Law Society of Scotland on 0131 476 8195."
Mr Harper could not be contacted for comment.