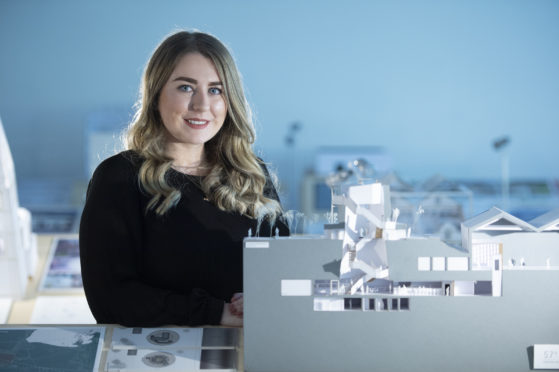 A Moray student believes a neglected roadside ruin in the north-east has the potential to be transformed into a leading tourist attraction.
For generations, the former windmill known locally as the "Cup and Saucer" has been a feature of the landscape between Cullen and Portsoy.
But the 18th Century monument, which sits close to the A98 Fraserburgh road on the NE250 tourist trail, faces an uncertain future as it is currently being offered for sale.
Now Amy McLeod, from Buckie, has drawn up a vision for what the historic stone structure could achieve as a tourist attraction.
The interior design student at Napier University in Edinburgh has prepared plans which uses the ruin's unique design to transform it into a viewing platform for the Northern Lights.
An underground whisky bar could also be created to pay homage to the nearby Glenglassaugh Distillery.
Meanwhile, an angular staircase made from materials inspired by the whisky industry runs up the structure to link the two spaces.
Miss McLeod said: "Growing up in Buckie, I've always been aware of the Cup and Saucer, passing it on a number of occasions while driving to Portsoy.
"The north-east has so much to offer in terms of tourism and things to do, as well as being one of the best areas in Scotland to view the Northern Lights, so if the cup and saucer was developed into something like my idea then I think it could be a great addition to what is already a special part of the country."
Miss McLeod's proposals for the ruin won the best in show award for her course at the opening of Napier University's degree show last week.
She added: "The site combines three things for which Scotland is known – a stunning sea view, uninterrupted sight lines of the sky and beautiful land all around so it ticked a lot of boxes when it came to selecting a site for my final year project.
"My design has pushed my creative thinking – designing the stairs was a particular hard task – but I really wanted to challenge the boundaries between interior and exterior."
Sellers are inviting offers of over £50,000 for the windmill.