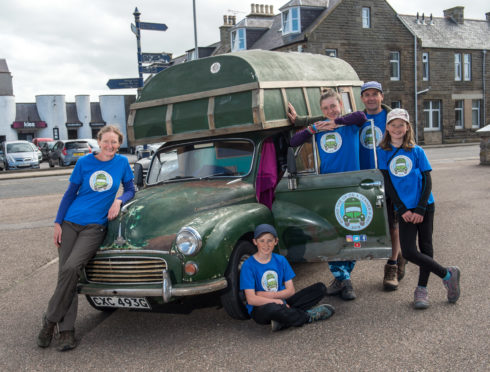 A family touring the UK in a rickety old campervan, while spending just £10 a day on food and fuel, have arrived in the north-east.
Dave and Jem Chick and their three children Gracie, Evan and Irys set off from Hull at the beginning of May to support a charity that enhances opportunities for young people.
Yesterday, the family from Sussex arrived in Buckie in their 1960s Morris campervan, which has been christened Mo, after visiting communities in Peterhead, Fraserburgh and Banff to learn about different projects.
The campaigners intend to donate £7,000, which is ordinarily their living expenses for the duration of their expected eight-month expedition when living at home, to charity Cat Zero.
During the trip, the group have been preparing bowls of porridge for breakfast, which can feed all five of them for just 25p, while evening meals have been soups, pasta and most recently a chick pea curry with hand-picked nettles.
Meanwhile, £5 per day on fuel manages to propel their vehicle, which also doubles as their home and kitchen for the trip, for a distance of about 30 miles while herbs grow in pots attached to the vehicle's exterior.
Gracie, 15, explained she was inspired to organise the trip after becoming concerned about the "confusion and frustration" facing her fellow youngsters.
She said: "I really got into sailing last year. It's made a massive difference in my life and the other young people because it's really intense learning and it teaches you resilience, life skills and team work.
"Cat Zero uses sailing to transform lives in deprived communities. Not just young people but people who have been unemployed long-term, veterans and others – anybody who needs a bit of help really.
"I'm taking this on on behalf of my generation. It's to let them know that I care, that my family cares, and to encourage others to look around them and see where they can make a difference in their own communities."
During their trip around the north-east, the family have visited initiatives, including the Fit Club in Peterhead and pipe band in Banff.
Today, they head for Nairn before spending the night in Inverness.
Mr Chick, who works as a carpenter, said: "There are some really positive stories in this part of the country. The community spirit is so much stronger here than where we live."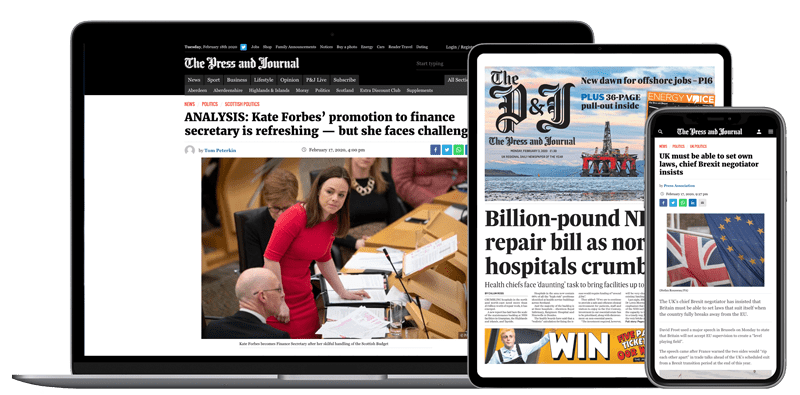 Help support quality local journalism … become a digital subscriber to The Press and Journal
For as little as £5.99 a month you can access all of our content, including Premium articles.
Subscribe