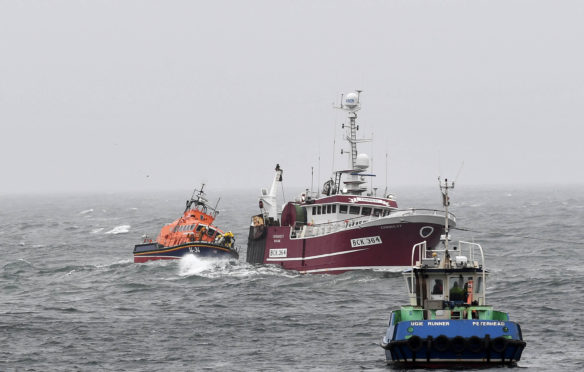 Fraserburgh lifeboat crew were called into action to help a stricken trawler for the first time since their counterparts in Peterhead were suspended.
The Buckie-registered Conquest ran into engine problems in the Moray Firth late on Tuesday night.
The volunteer crew from Buckie was called at around 9.30pm and managed to pull the trawler east for four hours.
Another fishing vessel took over the tow but a combination of bad weather and low tides meant it could not be taken to the harbours at either Macduff or Fraserburgh.
The Fraserburgh lifeboat crew were then called in to help oversee the operation.
Conquest finally arrived safely in Peterhead this morning, with the harbour tugs taking over for the final part of the haul.
The vessel was left sitting next to the idle Peterhead lifeboat, The Misses Robertson of Kintail, which has been stood down as a result of a dispute between members of its crew.
A Coastguard spokeswoman said: "We received a call at 8pm after a boat broke down near Buckie."
This was the first major incident for the Fraserburgh crew after the lifeboat at Peterhead was temporarily taken out of action by the RNLI.
The charity acted after deciding conflict between a small number of team members meant the Buchan life-saving crew could not operate safely and effectively.
Several were "relieved of their duties" as a result and volunteers from Fraserburgh and Aberdeen will cover for their Peterhead colleagues until the suspension is lifted.
An RNLI spokeswoman said they were "confident" the remaining crew in the Buchan town would form an "excellent and well-functioning" emergency service.
She said they were focused on bringing the boat back into service "as quickly as possible".
The spokeswoman added: "Lifeboat stations are positioned around the coast to provide cover for their neighbouring stations and boats can be off service for a number of reasons.
"This overlap of cover means that they are very capable of dealing with a potential increase in shouts.
"Aberdeen and Fraserburgh have already been providing cover when the Peterhead boat has been unavailable.
"However, should the need arise, we will obviously be providing swift technical or personnel support to ensure that our crews receive what they need."