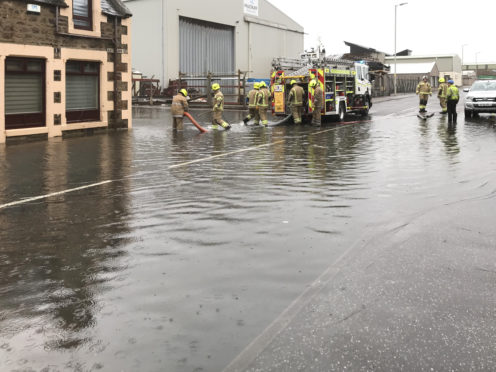 Frustrated residents of Buckie are demanding action after their homes were flooded with raw sewage three times in just two weeks.
Foul water has poured into houses on Rathburn Street repeatedly over the last two months, as drains have proved unable to cope with rainwater.
Locals are now demanding a permanent solution and say they are at their "wit's end" – with some claiming they have put up with the problem for at least 10 years.
Last night, Scottish Water apologised for the floods and said a fault in nearby pipes had been detected. Work on a temporary fix will begin this weekend.
Fire and coastguard crews were called to the street, near the town's harbour, most recently on Thursday afternoon after relentless rain fell through the day.
Residents watched on anxiously as the water and waste pooled outside their doors.
Pumps were used in order to clear away the deluge to minimise the damage.
Bank worker Gail Mearns, who lives on Rathburn Street, said: "We are really at our wit's end now. It's come in our front door, it's in the neighbour's garden, you just can't stop it.
"It's actually raw sewage that has been coming in, human waste has been left on the pavement since the last time it happened."
Neighbour Anne McKay added: "It's been happening since at least 2006. Scottish Water has promised to get to the bottom of it before, cameras have been sent down there and everything but it's still happening.
"We've got sandbags out permanently now, our insurance has gone sky high. It's got to the point now where we check it during the night to make sure everything's OK."
Buckie councillor Gordon Cowie has pursued concerns from the residents for more than a month.
He said: "It's heartbreaking what they're having to go through time and time again, nobody should have to put up with worrying about that all the time.
"They really are at their wit's end now so something needs to be done quickly just to give them some relief."
A Scottish Water spokeswoman said crews were on the street yesterday to help with the clear up.
She added: "Veolia, who operate the nearby waste water pumping station on our behalf, has identified a defect in the outfall pipe from the pumping station which appears to have restricted its capacity to manage storm flows.
"A contractor will be working on the shore over the weekend, as tidal conditions allow, to access the pipeline, complete a temporary repair and restore normal operation.
"We will continue to engage with customers impacted to address their concerns and investigate any other possible contributing factors to the flooding which may require attention."