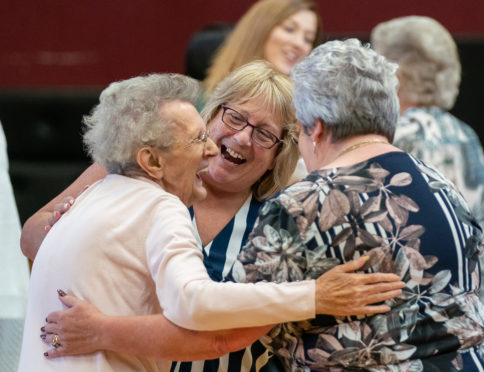 Nearly 100 people have attended a dementia-friendly disco in Moray to encourage sufferers to stay active for longer.
Residents at care homes in Buckie and Keith hit the packed dance floor for the toe-tapping event organised to provide health and mental benefits while bridging the generations.
An inaugural event in March attracted about 40 people with the latest incarnation of the "boogie in the bar" being attended by more than double that total.
Classic hits dating back to the 1950s were performed by local musician Chris Grant to keep the fun going for more than two hours.
Carers and family members also attended with loved ones to enjoy the entertainment at the dancefloor boogie in Buckie's British Legion.
Organisers hope that the benefits from an afternoon of dancing will go beyond a fun afternoon, by reducing the risk of people suffering falls in the future as well as keeping them fitter for longer.
Residents from Buckie care homes Netherha, Parklands and Burnbank joined those from Glenisla in Keith as well as other support groups in the area, including the Burnie Centre which helps adults with learning disabilities, for the event.
Caroline Cameron, activities coordinator at the Netherha Care Home, said: "We've seen 'boogies in the bar' being held in Aberdeenshire and in Elgin. We've been to a couple of them and enjoyed them so we just thought we'd organise one ourselves.
"We wanted to open up this one to the whole community to get everyone up dancing together and having a good time, it helps with fall prevention and helps keep folk on their feet by keeping them fit.
"It's basically just to show that once they're in a nursing home there's more to it than just the home. Music also really helps people with dementia, it brightens up their day."