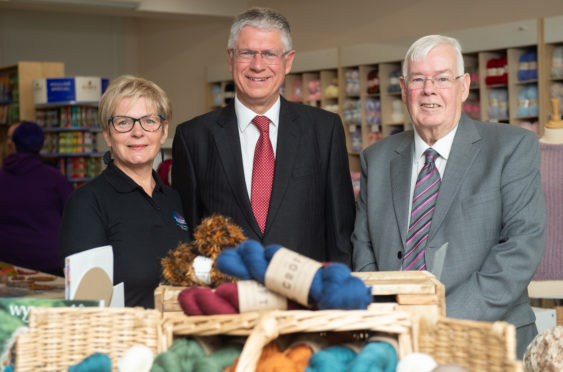 A north-east charity dedicated to supporting vulnerable adults get training for jobs has moved to a new base to secure its future.
Moray Reach Out has brought almost all of its Buckie-based projects under one roof in order to reduce rent bills and secure an asset to make it more sustainable.
Yesterday the charity christened its new base in the former Cruickshanks furniture store in the town's East Church Street amid hopes the premises will allow it to support even more people in the area.
Lord Lieutenant of Banffshire Andy Simpson held a ceremony to officially open the building, which will now house the cause's second-hand thrift shop as well as its yarns and crafts store following six months of refurbishment.
Moray Reach Out currently runs more than 100 training placements every week for about 50 adults with learning difficulties with money made by the projects reinvested into ensuring its survival.
Chairman Terry Murphy said: "When the building came on the market we thought it would give us the chance to reduce our rents, we were delighted to get it.
"It allows us to bring things under one roof but because it is so huge it will also encompass a headquarters for us and give us space to run more things in the future.
"In the next year or so we would like to landscape the garden area to create possibly a sensory garden to enhance the experience further for our trainees.
"The perfect scenario is we help these people into work. A lot of them have been with us for a number of years though and are very happy with what we offer – it gives them a reason to get out of bed in the morning and somewhere to go.
"This new place is already so much better. The old buildings were a bit cramped so this has already made it more welcoming to attend."
Moray Reach Out also runs recycling centres in Buckie and Lossiemouth where volunteers process the rubbish to be sold.
The charity also runs an embroidery shop on Elgin High Street that provides training in providing custom-made corporate, sports and leisure clothes as well as a range of gifts.