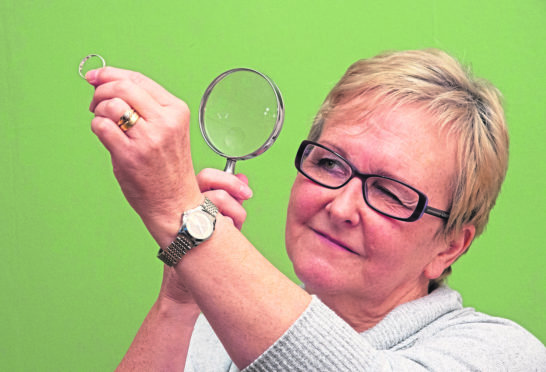 Opening a bag of chocolate Christmas tree decorations, a Banff woman was stunned to discover an engraved piece of jewellery.
The ring – likely to belong to a man – was marked with the German name "Antie" or "Antje".
It fell from the package as Gwen Forbes tipped-out the edible ornaments ready to adorn her tree.
Now she is appealing for help to trace the ring's owner in the belief that it will be sorely missed.
The chocolates, shaped like Santa, snowmen and Christmas puddings, were produced in Germany before Mrs Forbes purchased them in Buckie's Tesco store.
Her efforts to trace the ring's owner have, however, proved unsuccessful so far, despite spreading the word through her Facebook page and many shares.
She said: "I was really surprised when I emptied them out and tied a few of the strings on and then noticed it.
"The ring is a plain silver band and fits my thumb, so it is probably a man's ring I'd say.
"It's engraved on the inside with Antie or Antje, which is apparently a German name.
"There's a date too which I'm keeping a secret to make sure it goes to the right person.
"I don't think the ring itself is particularly valuable but the fact it's engraved suggests it has sentimental value to someone.
"The chocolates were sealed in a bag so so I'm presuming the ring went into the bag when they were being packed."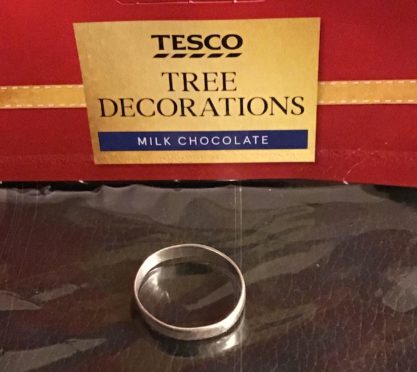 Mrs Forbes gave Tesco the barcode and batch number for the chocolates, which were hung on the tree and soon gobbled by her grandchildren.
But while the supermarket traced the supplier, it found no-one had yet come forward to report a lost ring.
The 59-year-old added: "It did cross my mind that maybe they didn't want to own up to losing it as there might be tight regulations about wearing jewellery while working in a factory that produces and packages food items.
"It would be lovely to find the owner. I know if I'd lost something like that I'd be gutted."
A spokesman for Tesco confirmed they were also trying to reunite the ring with its owner.
He said: "We have strict checks and procedures in place to protect food, so something like this is very rare.
"We're grateful to Gwen for letting us know and we're working with our supplier to help reunite the wedding ring with its owner."