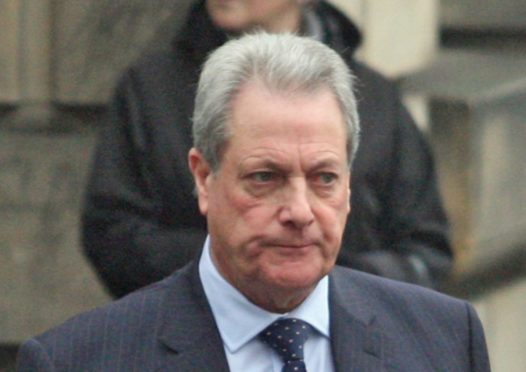 The family of a Moray dad who was killed in a road crash say they have had "no justice" after the sales rep who caused the collision while rushing to a meeting was spared jail.
Dameon MacPhee, from Buckie, died when the car he was a passenger in on the A96 Aberdeen to Inverness road near Elgin on November 15, 2017 was involved in a crash.
Yesterday Antony Zanre, from Peterhead, was spared jail amid angry scenes at Glasgow High Court with the motorist branded a "murderer" by family of Mr MacPhee with the 250-hour unpaid work sentence for triggering the accident described as "a joke".
Last night Mr MacPhee's mother, Jane Grant, said again she believed that the 68-year-old should have been sent behind bars for causing the accident that killed her son, who was 23 at the time.
She said: "He should have got jail. A life for a life. I know he wouldn't have got life but a couple of years in jail – he's killed someone, my son.
"There was no remorse in him. There's no justice."
Zanre had maintained his innocence throughout the trial – initially blaming Mr MacPhee's girlfriend Laura Stocks for causing the tragic crash.
Mrs Grant added: "I think it's sick he did that. Damo's partner is still grieving for him and to put the blame on her just because he made a big error of judgement is just wrong – it was just to save his own skin.
"If it had been a teenager who killed a 68-year-old they would have been jailed. In my eyes he's got away with it and still gets to spend time with his family, we've just got a hole."
During the trial the jury was told Zanre was on his way to a meeting in Elgin when he overtook another vehicle into the path of an oncoming car at Barmuckity.
That manoeuvre triggered a chain of events that caused the driver of a car heading in the opposite direction to brake, which resulted in the Vauxhaull Astra Mr MacPhee was in taking evasive action and colliding with Zanre's Volkswagen Golf.
One motorist who saw Zanre's car earlier described his driving as "aggressive" and called him an "idiot".
The driver had initially been accused of causing death by dangerous driving before being convicted of the lesser death by careless driving charge.
Defence advocate Susan Duff explained Zanre had become "quite tearful" when reading an emotional victim impact statement written by Mrs Grant.
Mrs Duff explained her client had "misjudged the space" required to complete the overtake.
She added: "He thinks about what happened every day."
Mrs Grant said: "Damo would do anything for you, he was always helping people and was completely devoted to his son."
Lord Burns told Zanre the "public interest" did not require him to impose a jail term.
Instead, he has been sentenced to 250 hours of unpaid work and has been banned from driving for three years. He will also be supervised for 18 months.