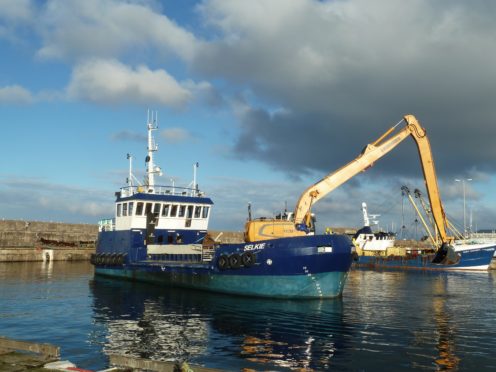 Moray Council says its dredger will soon return to work after concerns were raised about its inactivity now lockdown restrictions have eased.
Coastal communities have long expressed doubts about the Selkie since it was launched four years ago to maintain access to the region's ports.
The vessel was operating in Burghead and Buckie earlier this year and scooped silt from Findochty just days before the coronavirus lockdown began.
Now questions are being asked about why it has not yet returned to operations as working restrictions have eased.
Fochabers Lhanbryde councillor Marc Macrae described the dredger as "ideal" for social distancing.
However, Moray Council says that new operating plans to guard against Covid-19 need to be drawn up before it can return to sea.
Mr Macrae said: "It's greatly frustrating to hear from harbour users, in particular some from Hopeman, who find themselves unable to use the harbour until the small hours when there is enough water to get out to sea.
"While quite rightly many people are off work because of Covid-19 or working from home, the layout of the dredger seems ideal for social distancing with one in the wheelhouse, one in the digger and a third monitoring the engine and deck.
"It beggars belief it has sat tied up in Buckie for the last few months when the weather has been ideal for its operations. A time when the harbours are also less busy is surely an ideal time to carry out such works."
It is understood that the routine operation of the dredger does require the crew to move around the vessel while it is at sea.
Mr Macrae said he reported dredging concerns from communities to Moray in May and again in June.
A Moray Council spokesman said: "The council stropped dredging activity in line with the government guidance as part of the response to the Covid-19 pandemic.
"Given the recent easing of restrictions as announced by the first minister, the council expects to resume dredging operations shortly.
"Legislation requires that a thorough risk assessment is prepared, along with revised draft operating plans that provides virus protection for the crew. This is being carried out."