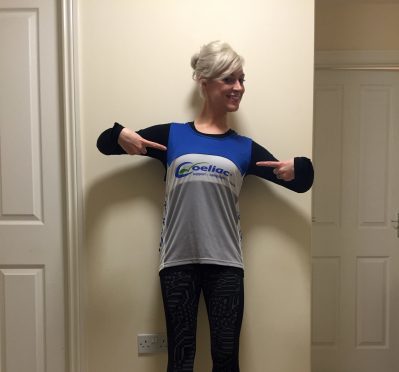 A Buckie woman is marking the anniversary of her coeliac diagnosis with a marathon run to help raise awareness of the illness.
Katie Duncan-Bruce's life changed when she was told she had the disease last year. The only way to fight the illness is with a strict lifelong gluten-free diet.
Failure to stick to the regime can lead to bowel cancer, malnutrition and osteoporosis.
Ms Duncan-Bruce is participating in the Edinburgh Marathon at the end of May to raise money for Coeliac UK.
She said: "I realised the campaign was coming up again and it was a year since my diagnosis. The charity has helped me so much since then.
"I definitely found it hard at first. You have got to be careful you don't accidently get gluten from something you use.
"You have always got to watch what you are eating and only go to certain restaurants. I've always wanted to do a marathon, but I also wanted to inspire others who get diagnosed."
Ms Duncan-Bruce, who is originally from Buckie, but now lives in Edinburgh, has already raised over £1300.
One in 100 people in the UK have coeliac disease, but only a quarter of them are diagnosed. Part of Katie's ambition is to encourage the rest to get tested.
She said: "I am thrilled to do my bit to raise awareness. I used to be embarrassed about my problems, but now I don't mind sharing my story if it means it could help someone else."
Donations can be made online for Katie's run by visiting www.justgiving.com/katieannedb.