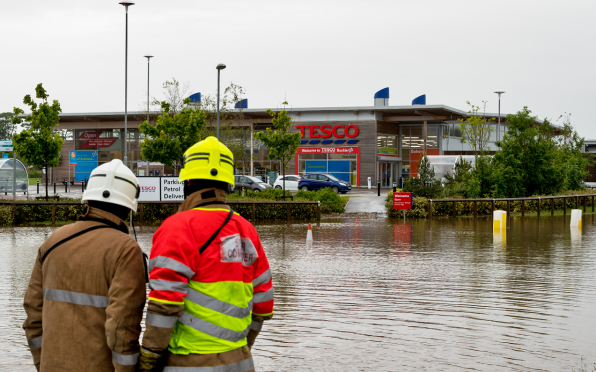 Residents in a Moray port were forced to flee their homes last night as they were swamped by floods.
Water poured down the A942 road into Buckie after heavy rain caused a burn to burst its banks.
Fire crews were called to the Parklands Care Home premises in High Street amid fears residents may have to be evacuated for their safety.
And the nearby Tesco closed its petrol station and operated with just a skeleton staff because customers were unable to use its flooded car park.
Families in Fairway Road were unable to stop water reaching the top of their skirting boards.
Claire Stewart called her mother to take her children, aged 10 and 12, to safety as she watched water pouring into her home for the second time in two years.
She said: "Basically, we just had to get everything off the floor.
"I phoned my husband to tell him to come home but by the time he did the water was in the house.
"I don't know what we're going to do. It's devastating to see your home destroyed by muddy water. It's more devastating now it's happened again."
The family was also forced from their house after it flooded in August 2014 but did not think there would be a repeat after improvements were made to the drainage in the area.
Mrs Stewart's husband Neal now fears the repercussions could be felt for more than a year as they make repairs and insurance claims.
Houses along the street had sandbags stacked at their doors.
Meanwhile, Tesco duty manager, Paul Tytler, said: "It just happened so quickly. We saw the water coming down the road slowly, then all of a sudden it was coming up over the bank.
"It was up to your shin at one point in the garage. When I started at 3.30pm it was not bad but it all changed in just half an hour."
Diggers carved trenches out of the ground to divert water from the Burn of Buckie away from the town.
Staff at Parklands Care Home formed a makeshift canteen in the street to keep the fire crews supplied with tea and cakes while they worked.
Area manager Shona Conlin said: "We just went into action with our contingency plans when we saw the water.
"We had sandbags out, made sure the residents were safe and got extra staff and volunteers."
The A98 Fochabers to Fraserburgh road was closed between Rathven and Barhill Road for about four hours as the route became impassable under a foot of water.
Earlier in the day Moray Council crews cleared a landslip at Yardie in the town.
Two fire crews, one from Buckie and one from Cullen, used pumps to get rid of the water with farmers also assisting.
Fire service watch manager Alan Cruickshank said: "The original call was from Parklands Care Home because the water was beginning to get a bit high. We managed to clear it to stop the water going into the building."
A police spokeswoman confirmed the A98 was shut at about 3.30pm due to the water level.