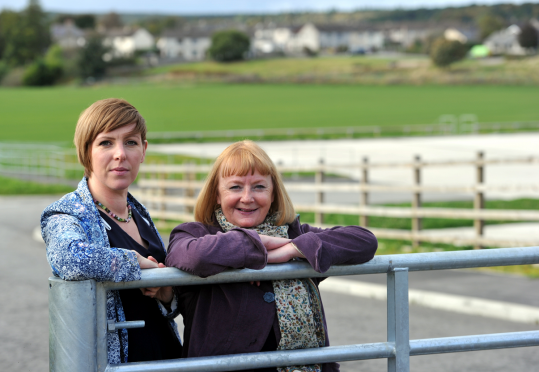 Two extra football pitches have been secured for a Moray park – but some local councilors have pledged to continue the fight to secure funding for changing rooms.
At a full council meeting yesterday, it was agreed three sets of goals should be installed at the Deanshaugh playing fields in Elgin – as well as a training field – despite authority chiefs recommending just one.
Officials pulled the plug on the proposed pavilion at the riverside park for budgetary reasons last month.
But an access road and hard standing have already been built at the site for the changing rooms and car park.
And yesterday, councillors reacted angrily to relinquishing the facility during discussions that lasted nearly an hour.
Elgin City North member, Mike Shand, insisted council bosses should "continuously" be seeking external funding to finish the project.
The SNP member claimed there was now a "poverty of ambition" at the authority in dealing with their perilous financial position.
He added: "There should be some creativity when trying to find alternative sources of funding."
The council's head of lifelong learning, culture and sport, Graham Jarvis, argued just one football field would be enough to meet demand.
But Elgin City North councillor Patsy Gowans insisted three parks and a small training field would all be well used.
She said: "All the under-16 teams are having to go outside of the town to play games. The park is now up to a standard for a football academy.
"Maybe, the pavilion is not a council priority, but keeping our population fit and healthy is. The pavilion would be an added bonus and it's something we should try and get."
Fochabers Lhanbryde councillor Douglas Ross proposed temporary changing rooms while the search for extra funding continued.
However, the Conservative, who used to referee at the pitches, was told by convener Allan Wright that, due to the cost of the suggestion, it would not be able to be agreed until December.
Mr Ross said: "A temporary facility would not be all-singing, all-dancing, it would be a stop-gap measure, but it would give us something to look forward to rather than simply consigning football at Deanshaugh to history."
Councillors voted to mark three full-sized and a training pitch, which could be financed from existing budgets, with no temporary pavilion.