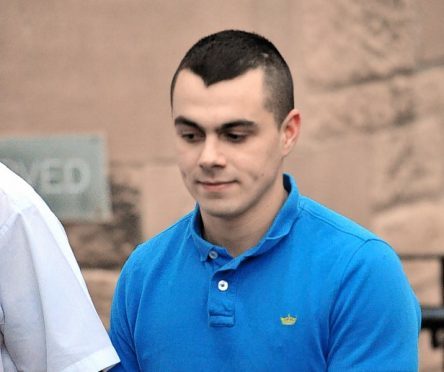 The Press and Journal can today disclose details of Liam Forsyth's criminal record – which reveals a fascination with knives.
When police searched his Lesmurdie Road home following the near-fatal attack on Mr Stephen, they seized eight blades.
But a string of past convictions hints at a fixation with the deadly weapons which stretches back more than five years.
In 2011, when he was just 18, Forsyth appeared at Elgin Sheriff Court charged with brandishing a knife and threatening to stab police officers.
His mother had called police to their Forres home after becoming concerned about her son's behaviour.
When they arrived, Forsyth told them he was going to harm himself, and "would stab any police officer who came to assist".
That September, he was discovered in the town's Tesco car park in possession of a knife.
His lawyer maintained that Forsyth had been using the implement while cooking and had absentmindedly left his house with it.
But the teenager was sentenced to one year in detention in respect to both offences that year.
In January 2014, Forsyth was accused of stabbing one of his friends in a drink-fuelled row in his flat.
His defence agent, Iain Jane, successfully argued there was no case for his client to answer due to a lack of evidence that he struck his pal, Stephen Gauld, with the knife on the neck and body.
But Forsyth admitted illegally possessing a blade during a brawl between the two men outside Elgin's CJ's chip shop.
He was later jailed for 18 months, and a sheriff told him "carrying knives cannot be tolerated".