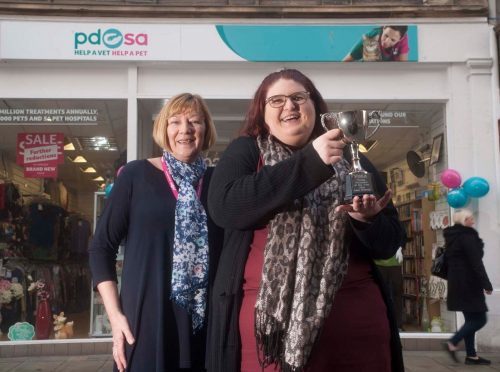 A Moray woman with a life-long passion for animals has won an award from a pet charity for going beyond the call of duty.
Lani Watson stepped in to run the PDSA shop in Elgin when the manager became illness last year.
With only the most basic training, the 23-year-old managed the store and dozens of volunteers for four weeks until her boss recovered.
This week, she was named as the PDSA's young volunteer of the year ahead of hundreds of others across the UK for her dedication to raising money to help pay for medical care for pets.
Miss Watson, who has given up her time for the charity for more than two years, tirelessly contributes to fundraising events for the charity in Moray, which raise more than £1,000.
She had several pets growing up – even welcoming a stray cat, lovingly called Felix, into her own home.
She said: "Volunteering is something I've always liked the idea of. It makes me feel good about myself knowing what I'm doing is helping sick and injured animals.
"Ever since I was born I've had lots of different animals. I've had a couple of dogs and have two cats at the moment, Smokey and Bonnie.
"I'd love to be able to help raise money for the PDSA as a job – it's such a worthy cause knowing you're helping the vet bills for people that might not be able to afford it."
Volunteers at the Elgin shop and charity bosses celebrated Miss Watson's accomplishments with a celebratory buffet at the town centre store this week.
Manager Alison Whitton praised her dedication.
She said: "It was very stressful for her, but she coped amazingly with everything that could have been thrown at her. It all happened very suddenly so she didn't have any time to prepare for it."
Also celebrated at the bash was Urquhart resident Sheila Landers, 63, who has been volunteering for the charity for 15 years.
Mrs Whitton said: "It's amazing for someone to dedicate that length of time to a single charity."
Those interested in volunteering at the PDSA should call 01343 548183 or go fill in a form online at www.pdsa.org.uk