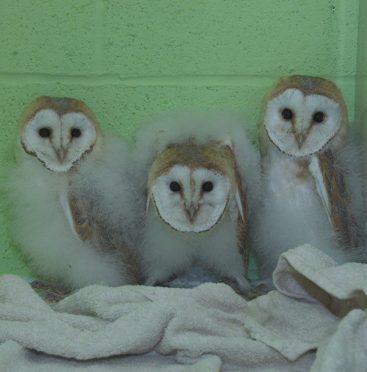 Three adorable barn owls are preparing to return to the wild just weeks after facing death on the floor of a cold Moray barn.
The winsome trio were born nearly three months earlier than normally anticipated and would not have been expected to survive the harsh winter months.
But Alvin, Simon and Theodore, dubbed the Chickmunks by animal rescue staff, have defied expectations to return to full health.
The SSPCA was initially alerted about one five-week-old chick that had fallen from its nest in a barn near New Elgin by a farmer.
After rescuing the first owl chick about two weeks ago, the organisation was called out again twice to tend to his brothers.
Animal rescue officer Amanda Watson said: "It was quite a shock to find chicks that age – usually they are not born until April or May.
"The mother had done very well though. There wouldn't be a lot of food for them at that time of year. They were a bit thin but not too bad.
"They shouldn't have been out of the nest at that age. They probably would have passed away without help because of the cold.
"When we went to help them, they played dead for a bit by lying really still, which was a bit worrying, but they were feeding within half an hour."
After getting a quick check-up at a vet in Elgin, the birds have now been taken to the SSPCA's rescue centre at Fishcross near Stirling.
The chicks are now being nursed back to full health and, following their traumatic start to life, are expected to make a full recovery.
Colin Sneddon, manager of the National Wildlife Rescue Centre, said: "The chicks are around seven weeks old now and are just starting to use their wings.
"They're not very good at flying yet which may explain why they were found on the floor of the barn.
"In a couple of weeks, they'll be better fliers and, by the time they are 12 to 14 weeks old, we'll be preparing them for release back into the wild."
Anyone who discovers an injured or distressed wild animal should call the SSPCA by phoning 03000 999 999.