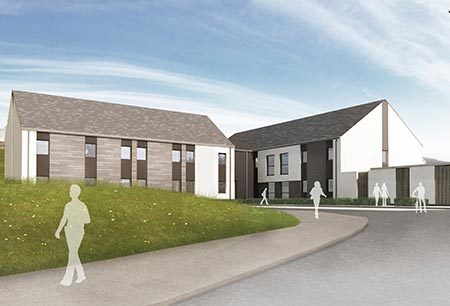 Moray's biggest town is poised to welcome an influx of students after an "eyesore" building was demolished to make way for a new halls of residence.
Bishopmill House, a former care home in the north of the town, fell into disrepair after being abandoned in the 1990s.
Demolition work costing £130,000 was carried out last summer, and quickly afterwards it emerged that a student accommodation complex would be built on the site.
Yesterday, Moray College UHI announced the venue would open in August and thereafter welcome its first tenants.
The building will feature 40 en-suite bedrooms, and students have the option of a single room or a studio room with cooking appliances.
They are aimed at attracting more young people to move to Elgin to study.
It has been named Laich Rise, as it is positioned overlooking the Laich of Moray.
Moray College principle David Patterson said the development would help transform Elgin into a "vibrant university town".
He said: "We have enrolled record numbers of higher education students in the past couple of years and this new student accommodation will enable us to attract more students from outwith the region, and internationally.
"It will help us towards our ambition that Elgin will be seen both as a historic cathedral city and as a vibrant modern university town."
And the vice-chairman of the Moray Economic Partnership group, James Johnston, praised the project.
He added: "This is a very welcome initiative to provide student accommodation in Elgin.
"Encouraging young people to both stay in Moray, or to be attracted to the region is a central aim of ours.
"Hopefully once here, the students will come to love the area and put down roots."
The accommodation is being created as part of a project managed by the University of the Highland and Islands and developers Cityheart.
They have already created new student flats for Inverness College and West Highland College.
North Highland College will also open a new block in Dornoch this summer.
Moray College UHI has bases at Moray Street and Linkwood Road in Elgin.
Bishopmill House was latterly used as emergency accommodation for residents forced to flee their homes because of floods in 2009.