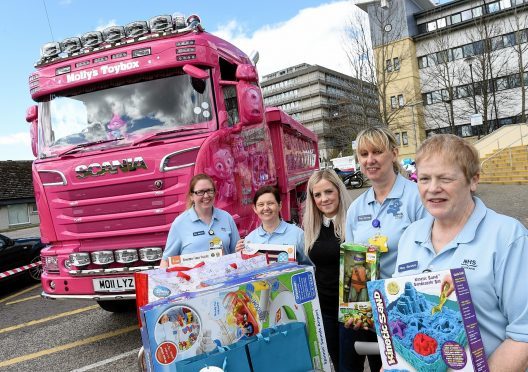 Poorly children from across the north-east were given a surprise when a huge pink lorry arrived at their hospital – along with hundreds of toys.
The eight-wheel tipper truck has been emblazoned with images of characters from popular family films like Shrek, Toy Story and The Lion King.
But, more importantly, it features the names of youngsters who have battled serious illness at the Royal Aberdeen Children's Hospital.
The gleaming lorry has been launched as a tribute to north-east children like Hamish Dear and Kayleigh Cordiner, who died of cancer.
And it is intended to inspire youngsters like Forres five-year-old, Eileidh Paterson, as they continue to fight the illness.
It arrived at the hospital beneath sunny skies yesterday afternoon, along with roughly £5,000 worth of toys for its play centre.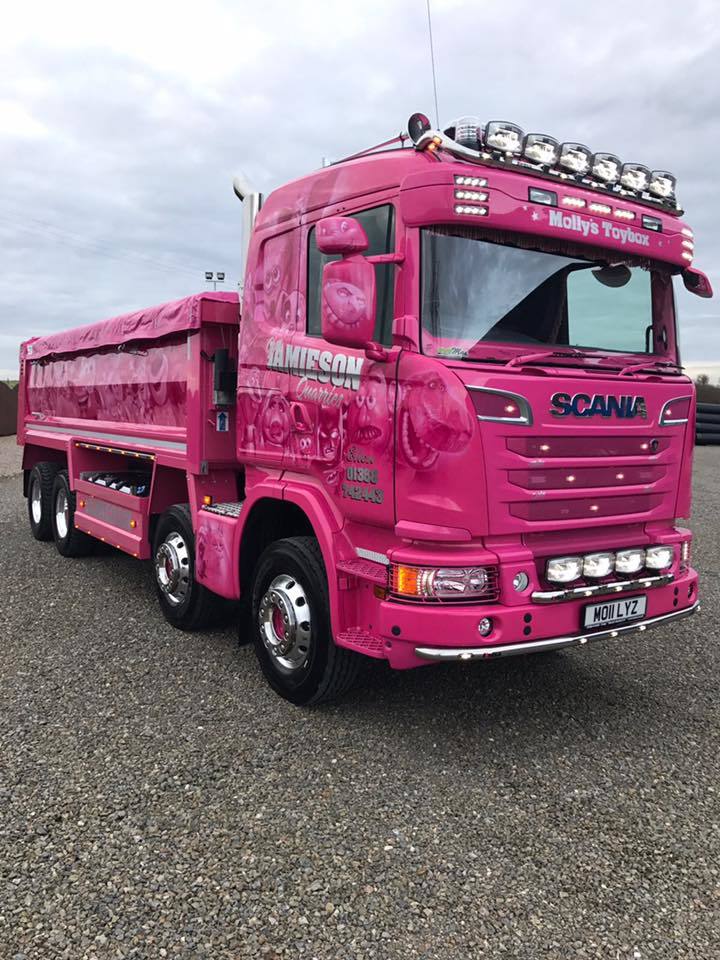 Elated youngsters let out cheers of delight when they first clapped eyes on the machine, and celebrated with bubbles and balloons.
The distinctive truck belongs to Ellon-based Jim Jamieson Quarriers, and was the idea of accounts manager Gemma Cameron.
The 32-year-old said: "We wanted to thank the hospital for all they do for children in the north-east, and to make those children there smile.
"The lorry has been getting designed for more than a year but, ever since I joined the business when I was 16, I have wanted a pink lorry to join all the other blue ones.
"We have had a great response, I'm humbled by the feedback."
The toys were later brought inside, and children who were unable to take part in the outdoor celebrations got to join in with the fun.
The lorry has been named Molly's Toybox in honour of Mrs Cameron's daughter.
It was Molly's toy collection that influenced the decision on which famous characters to depict on its sides.
The vehicle also features the names of some adults attached to the Friends of Anchor cancer charity.
Mrs Cameron said the names belonged to people "fighting cancer battles, or who had fought and lost them".
The names of company owner Jim Jamieson's four grandchildren – Ellie, Max, Molly, Carly – are inscribed at the front of the truck.
Last night, the parents of children who have been commemorated on the lorry spoke of their emotion upon seeing the vivid vehicle.
Three-year-old Hamish Dear, from Tarves, who died from neuroblastoma in November 2015, has his name painted on the side of the truck.
His parents have since set up the Hamish Dear's Warm Hugs charity, and thanked Jamiesons for including the youngster in the project.
Mum Hollie Dear, said: "We were asked about this two weeks ago, and didn't know exactly what to expect.
"But I was overwhelmed when I saw pictures of the lorry, and now I can't wait to visit it in person.
"Even looking at images of it was quite emotional, it's so nice for these children to be remembered.
"I love the whole idea of it, and I know Hamish would have loved it as so many of his favourite characters are on it."
The vehicle also pays tribute to Kayleigh Cordiner, who died from a brain tumour in 2012, when she was aged just 20 months.
Her parents, who live in Oldmeldrum, run the Kayleigh's Wee Stars charity in her honour.
Anna Cordiner said: "This is so special for all of these children, and their parents.
"It means that their memories will continue to shine bright."
And Moray youngster, Eileidh Paterson, was among the children to greet the hulking vehicle as it arrived at the hospital yesterday.
The Forres five-year-old is undergoing treatment for neuroblastoma, and is known for her fondness of all things Disney.
Eileidh's name was deemed an appropriate addition to the side of the lorry.
Her mum, Gail Paterson, has applauded Mrs Cameron for her efforts in arranging the eye-catching homage.
Ms Paterson said the surprise arrival happened at "just the right time" to cheer Eileidh up, as she had spent the week in a lot of pain.
She said: "Eileidh was going through all the characters on it, telling us who they all were.
"She had been grumpy all day because of the pain she is in, but this really lifted her mood.
"I'd never seen such a crowd as there was at the front of the hospital for it, the lorry really looked amazing."