History came alive during a poignant World War One memorial event in Moray yesterday.
Crowds gathered in Elgin to mark the centenary of the Battle of Arras – in which 250 local men were killed.
British and German troops clashed at the French city between April and May 1917, and the struggle is infamous as one of the bloodiest of the Great War.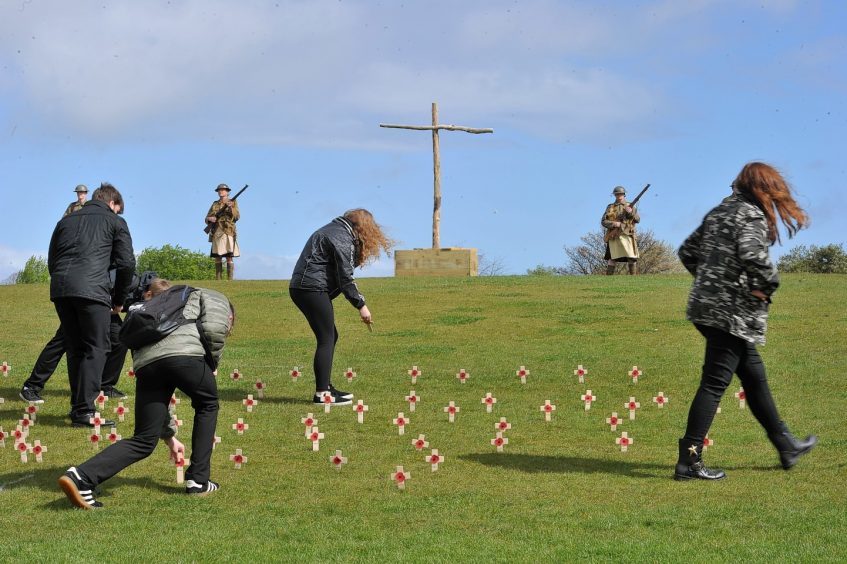 No single battle before or since has claimed the lives of as many Moray men.
Hundreds of people came together in Cooper Park to pay tribute to the local lives that were lost during the 39 days of intense conflict.
Children from each of Moray's secondary schools planted 250 wooden crosses in the ground to honour every fallen serviceman.
And in a powerful tribute, four men dressed in the same uniform as those slain soldiers appeared from clouds of smoke – as if fresh from fighting.
They stood solemnly beside a cross as the children planted their miniature tributes in the ground beneath them.
The memorial event took place beside the drill hall where troops gathered 100 years ago, before marching to Elgin train station and joining the war effort.
Crisply-uniformed personnel from the Kinloss Army Barracks and RAF Lossiemouth formed regimented rows in the park as the event got underway.
And a Typhoon fighter jet from the Moray airfield roared overhead at 11am to begin proceedings.
The Lord Lieutenant of Moray, Grenville Johnston, said a trip to see the headstones at Arras as a 12-year-old had stuck with him ever since.
He added: "We should be immensely proud of what these men of Moray achieved for our eventual peace."
Kinloss Army Barracks chaplain Seoras MacKenzie said: "Each of the 250 men we are remembering matter in their own right."
The military wives choirs from Kinloss and Lossiemouth performed a medley of songs popular among World War One soldiers.
And they later sang renditions of some of the hymns that gave the men heart in 1917.
Musical director of the Lossiemouth choir Nicola Moss said the group had been "honoured" to play a part in the event.
The Battle of Arras was a British offensive on the Western Front.
The Allies suffered 159,000 casualties, including 46,000 Scots, during the fighting.
Double tragedy
One Dufftown family lost two sons on a single day of conflict during the First World War.
John and Robert Strath joined the 5th Seaforth Highlanders together in 1916.
John was badly wounded the following May, and succumbed to his injuries in hospital in July – on the same day that Robert was killed in action.
Many Moray families lost more than one son in the Great War, but no other was hit by the death of siblings on the same day.
The double-tragedy which struck the Strath family was one of many heartbreaking accounts retold during yesterday's event.
Local historian, Derek Bird, addressed the crowd with several stories of how local families suffered during the war.
Alexander Murray was a teenager when he cycled from Keith to Elgin to enlist in the 6th Seaforth Highlanders.
He died during the first days of the Battle of Arras, on April 13, 1917 – when he was only 17.
Buckie man Alexander Sutherland graduated from Aberdeen University with a first class honours degree in classics in 1907.
His career brought him to Africa, but he returned home to enlist.
Mr Sutherland had been ordered home on sick leave in April 1917, but insisted he take part in the "big push" at Arras.
He died on April 23, 1917, amid fighting over the control of a chemical works there.
Sergeant Charles MacKenzie was an Elgin house painter before he signed up for conflict.
Sgt MacKenzie's arm had been badly injured in May 1915, and doctors wanted to amputate it.
But the valiant Moray man would not allow that, and rejoined his battalion the following month.
In 1916, he was shot and killed while standing over an injured comrade and shielding him from attack by German soldiers.
His great-grandson, Jock MacKenzie later wrote a piece of music about Sgt MacKenzie – which featured prominently in Mel Gibson's 2002 film When We Were Soldiers.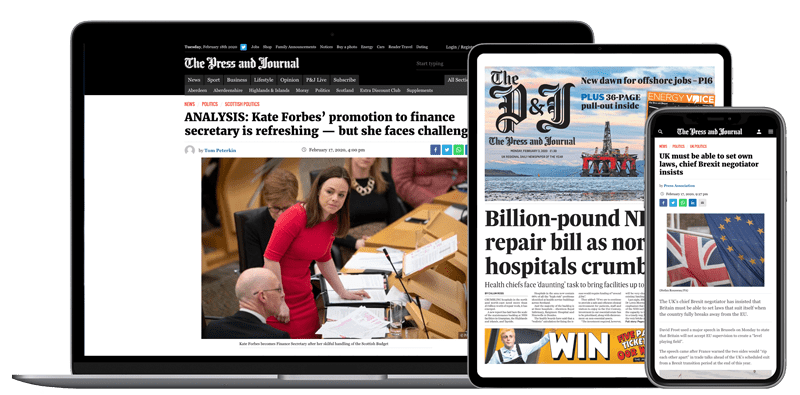 Help support quality local journalism … become a digital subscriber to The Press and Journal
For as little as £5.99 a month you can access all of our content, including Premium articles.
Subscribe