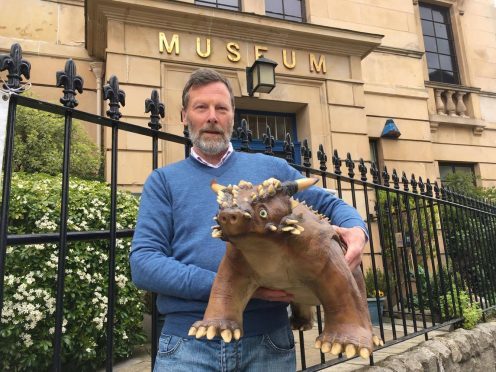 Young dinosaur enthusiasts are being encouraged to learn more about the fearsome reptiles that roamed Moray in prehistoric times.
In the years before huge creatures, such as Tyrannosaurus Rex and Triceratops roamed the earth, their predecessors flourished in parts of the north-east.
And now, Elgin Museum is staging a celebration of reptiles such as the Elginia Mirabilis – which was named after the town.
The venue will remain open until 7.30pm on Friday night, in an effort to entice a greater number of visitors.
And to make the trip more exciting for children, the museum is hosting "dinosaur invasion" sessions throughout the evening.
Young visitors will be offered a range of activities, focused on the area's ancient inhabitants, from 5pm, including "dinosaur origami" lessons.
Elgin Museum treasurer, Graham Robertson, will show children around fossil exhibits which scientists reckon date back between 220 and 250million years.
Mr Robertson said: "There are a lot of pre-dinosaur fossils here, all of our exhibits actually relate to reptiles that predate the dinosaurs.
"A lot were found around the Burghead area, and some were discovered at what is now Quarrelwood in Elgin.
"The open evening is for everyone, and older people can simply come in to look at all our usual exhibits.
"But we wanted to do something special for children, and dinosaurs seem to fascinate many of our younger visitors.
"The scary creatures they might have seen on films like Jurassic Park actually have close links to Moray."
The Elginia Maribilis was a pareiasaur which may have grown up to 10ft in size.
Their remains were first discovered around sandstone in the region in the 1850s.
Elgin Museum has a model replica of one, which is popular among young guests.