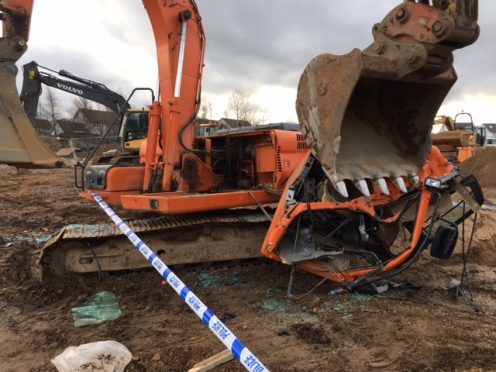 Two teens have admitted causing almost £40,000 worth of damage after storming a Moray construction site and going on a rampage with a digger.
The brazen duo ignored warnings at the entrance to the building site in Elgin and used bulky heavy machinery to drag specialist equipment across the ground.
And after gouging holes in the soil the boys moved on to claw the cab off another digger – buckling metal and smashing the glass.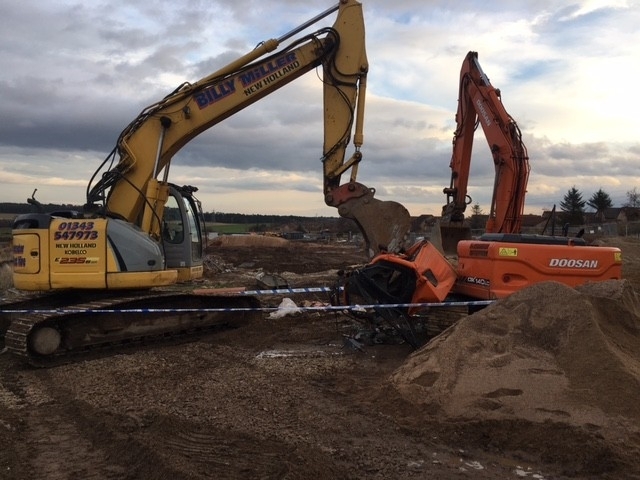 The controls of the Billy Miller Contractor and Plant Hire vehicle were scooped off the base, only remaining connected by a small amount of cabling.
Just days before entering the site on December 14 last year the youngsters also stole cash from Elgin Academy.
Yesterday the 16-year-olds, who both live in Elgin but cannot be named for legal reasons, admitted causing a trail of destruction when they appeared at the town's Sheriff Court.
Billy Miller, owner of the firm that was using the digger, revealed the incident only came to light when staff arrived for work the next morning.
He said: "It's terrible what they have down. It's ridiculous. You will get windows smashed and other damage but it's something else to actually rip the cab off.
"It's just mindless. I don't understand what they would have got out of doing it."
Mr Miller added: "It's unbelievable. One of them has got into the machine and got it started and then travelled it out the site and then the whole cab has been pulled off."
Police immediately launched an appeal for witnesses after the full extent of the destruction came to light.
The Billy Miller diggers were at the Hamilton Gardens building site in the north of the town to do ground works for houses being built by Scotia Homes.
The teenagers admitted "maliciously" entering the construction area without permission and using the true key to start the New Holland vehicle.
After getting the excavator moving they drove it around the yard – crashing through fencing while damaging underground drains and electrical cables while scooping soil out of the ground.
The arm of the digger was then used to drag a hefty Doosan excavator before the cab was torn off and pressed into the ground.
It is estimated that £37,000 worth of damage was caused during the rampage.
During the raid at Elgin Academy on December 9 the youngster's stole £100 from the school's caretaker room as well as tobacco and cigarette papers.
Moray Council has confirmed no damage was caused during the incident.
The teenagers will appear again at Elgin Sheriff Court next month to be sentenced once social work reports have been prepared.