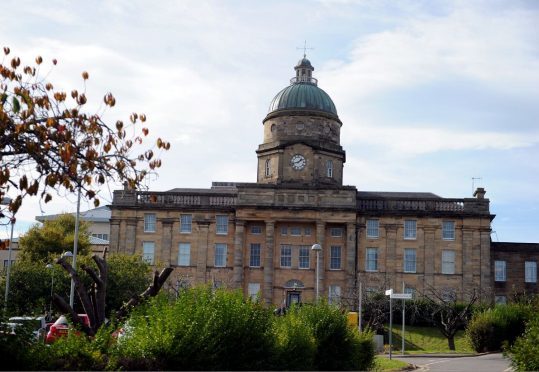 Pregnant women in Moray could be forced to travel to Aberdeen or Inverness to give birth as a result of a recruitment crisis at the region's biggest hospital.
Unless two doctors are hired at the maternity unit before the end of the month then mothers-to-be may have to face a 60-mile trip while in labour.
NHS Grampian management, staff and union bosses are due to meet today for crunch talks to discuss the implications of the staff shortage.
Coastguard helicopter could be called on for pregnant mums from Caithness during bad weather
The meeting has prompted calls for more work to be done on recruiting health staff to Moray to cover shortages amid fears the problems will intensify in future years. A change-over of trainee doctors has been blamed for the current crisis.
Last night NHS Grampian insisted the feasibility of numerous temporary options were still being considered, including transporting mums to Aberdeen or Inverness.
One midwife revealed management told some staff about the changes and were told to "pass on the information" to colleagues.
They said: "A recruitment crisis at Dr Gray's may mean the obstetric unit will be downgraded to a low risk midwifery unit by August.
"Medical cover will only be from 9am to 5pm if management are unable to recruit another two junior doctors.
"Unless the pregnant woman is completely low risk, she will be required to travel up the A96 in labour to deliver her baby in Aberdeen or Inverness."
Yesterday Moray MSP Richard Lochhead insisted any reduction to maternity services at the hospital would be "resisted".
Mr Lochhead has raised staff concerns with NHS Grampian's chief executive, Malcolm Wright.
He said: "At this time of year new junior doctors are recruited to work in our local hospitals as others move on but with the turnaround fast approaching there are still gaps to be filled at Dr Gray's.
"If the vacancies remain then NHS Grampian is saying that some service may have to be modified, including maternity services, and this is causing concern."
He added: "It's very clear the NHS has to take every step possible in the next few days to avoid changes to local services – and more has to be done nationally to attract junior doctors to work beyond the cities."
Mr Lochhead has written to the Scottish Government to urge more work to be done to encourage doctors to train at Dr Gray's fearing pressures "will only increase" otherwise.
NHS Grampian's director of acute services, Gary Mortimer, explained August was a "frequently challenging" time of year but there had been a particular shortage this time of paediatric, obstetrics and gynaecology applicants.
Mr Mortimer emphasised the temporary measures were not being financially driven and there was money available to recruit staff.
He said: "We must stress that absolutely no decisions have been made about the long term service and that any interim changes will be temporary.
"Over the next few weeks we will be unrelenting in our efforts to identify and recruit additional permanent and locum staff. We are however making sure that we have contingency options in place in case those efforts are unsuccessful."
Yesterday the British Medical Association explained unfilled junior doctor positions can have a "significant impact" on delivering services safely.
A spokesman said: "While the most recent national figures do show some improvement in recruiting doctors into hard to fill training programmes, there is more that still needs to be done to attract more junior doctors to work in Scotland.
"Even though it can lead to difficult decisions, clearly the priority must always be the safety of patients and that requires services to be staffed sufficiently."
Alexander Burnett, Scottish Conservative MSP for Aberdeenshire West, said: "While the immediate concern must be to ensure that expectant mothers are looked after, there will be a knock-on effect in terms of capacity at hospitals in Aberdeen and Inverness.
"Aberdeen Maternity Unit is already extremely busy and staff are overstretched as it is. This will simply add further to the workload and put even more pressure on the number of available beds."