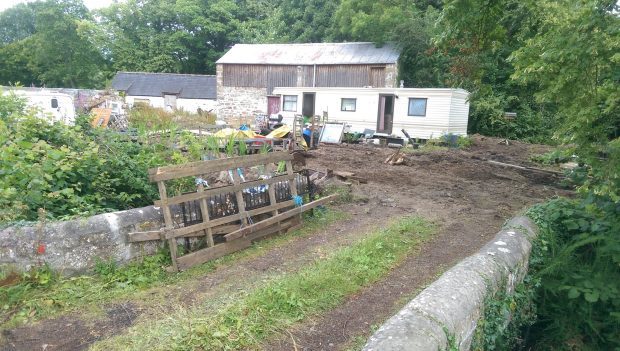 The owner of a Moray beauty spot that has deteriorated into a "dumping ground" has been given extra time to tidy it up.
Landowner Patrick Thirkell was ordered to clean up rubbish, broken machinery and debris strewn across the Old Mills in Elgin by the council.
Yesterday diggers could be seen working at the woodland site. Mounds of burnt-out remains and a trailer with old tyres have all been removed from the site this week.
Gouges have been taken out of the soil to scoop up the unsightly mess for it to be taken away and disposed of.
Moray Council has confirmed that Mr Thirkell has arranged for the work to be carried out himself.
The 62-year-old has failed to comply with previous orders.
The local authority has already spent about £8,000 on two previous clear ups of the land after stepping in – about half of which has been paid back by the Hopeman resident.
Yesterday Mr Thirkell said the clear up was "all in hand" and discussions with council staff had been "very good".
The gardening expert added that he now intends to restore a burnt-out barn that was hit by vandals as a house in an effort to improve security.
The former RAF man also confirmed that he was still forging ahead with construction on polytunnels that will be used to create a taste of summer to help those with seasonal affective disorder in winter.
Piles of wood and scrap metal remain at the Old Mills to be used on construction of the greenhouses that will be used to grow fruit and vegetables.
Mr Thirkell was given until July 24 to tidy the land after the Scottish Government threw out his appeal against the authority action while describing the Old Mills as a "dumping ground".
A Moray Council spokesman confirmed that Mr Thirkell began tidying up the site on the last day on the enforcement notice before the deadline.
He said: "He has started to tidy up the place. We are monitoring the progress and have agreed a short extension period to enable him to complete the work in accordance with the notice."