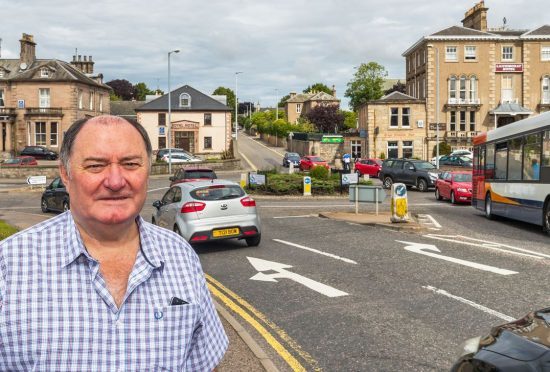 A £30million plan to relieve traffic gridlock in Elgin could take a major step forward this week.
Work at two notorious roundabouts in the town is poised to be approved as part of a masterplan to ensure the area can cope with a massive population boom.
Over the next 13 years, an extra 2,700 homes are expected to be built in Elgin – leading to an extra 15,000 car trips a day for nearly 1,000 new jobs.
Moray Council is due to ratify a new transport strategy for the town containing more than 30 solutions to ease the flow of vehicles on the roads during a specially arranged meeting on Wednesday.
The wide-ranging vision also includes improvements to the bus station as well as improvements to promote cycling and walking before 2030.
And work is expected to be approved in the coming days at the Laichmoray roundabout, as well as the South Street and Hay Street junction to begin the transformation.
Last night, Elgin City South councillor John Divers insisted that "doing nothing" was not an option due to the expected traffic increases.
He said: "When you look at the Laichmoray roundabout, there's so much traffic going through it to get over the railway – another crossing over the tracks is going to be the big thing.
"At South Street I often see four cars looking at each other to see who will go first, I imagine everyone has. It's a bottleneck and slows everything down."
If approved, Moss Street would be converted to a one-way street with widened pavements and cycle lanes so traffic can only exit from the Laichmoray roundabout on that road.
Changes to the South Street junction would lead to traffic lights and pedestrian crossings being introduced.
Despite costing an estimated £30million to deliver, council officers expect the benefits of the scheme to run to £50million.
Funding is already in place from developers to contribute to improvements at the Edgar Road, Laichmoray and South Street roundabouts as well as at Ashgrove Road and East Road.
The document is also expected to form part of the region's bid for city deal funding.
The biggest proposal in the blueprint is a £7million crossing over the railway between Ashgrove Road and Maisondieu Road to be built before 2022.
During a consultation the bridge won a majority of support but also attracted concerns from locals. Council officers are expected to contact residents to examine ways to address their fears.
Elgin City South councillor Graham Leadbitter said the effect of the A96 Aberdeen to Inverness dualling project would not address all the problems in the town.
He said: "It will clearly have an impact on the amount of traffic going through Elgin but it doesn't mean we can sit back and do nothing in the town.
"For a town this size it's hugely important to have a comprehensive strategy so that as the town grows there is a clear set of interventions.
"As with any major piece of work some things will be easier to achieve than others but it's important to have."
In a report ahead of the meeting, council transport manager Nicola Mosd said approving the masterplan would open the doors for the authority to secure extra funding to help pay for the improvements.
She said: "Without a clear plan for delivering transport infrastructure interventions in a strategic manner, there is a risk that Elgin's road network or transport mode split will not develop in a way that can meet the increasing demand from population and employment growth."