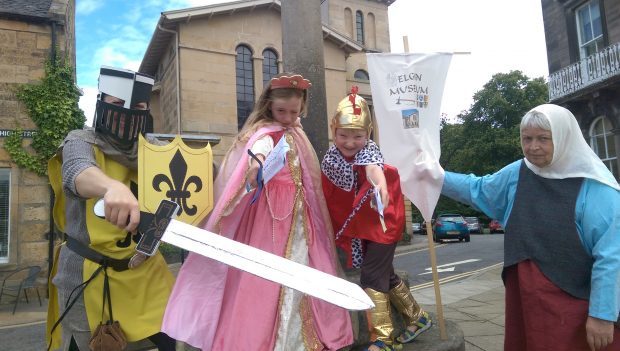 A battalion of Moray children armed with medieval swords and shields have stormed a castle.
Young investigators have been learning about Elgin's dark and mysterious past during sessions at the town's museum.
And yesterday they marched through the historic town centre on a mission to conquer high ground.
After gathering at the weathered market cross the youngsters marched to Lady Hill before triumphantly claiming the castle ruins at the summit as their own.
West End Primary School pupils Fiona Coull, aged eight, and Donald Coull, six, joined the legion dressed as kings and queens from 1,000 years ago.
The brother and sister, who live in Elgin, sculpted their own swords that were bespeckled with bright gems.
Fiona said: "I got the cape from my mum but I wanted to add my own beads to it to make it special.
"I've enjoyed learning about history. The best part was making my own mosaic."
The royal siblings were joined on the march by knights in shining armour holding battle axes and market traders from a millennium ago.
During the procession the youngsters stopped to be shown the sights of some of the area's most fascinating tales from the era.
Children were horrified to learn of the grave that still lies under the Plainstones.
And they were enthralled to find out many of the exhibits they had been studying in the museum were unearthed in the town centre.
At the summit the young army learned about the castle ruins' bloody past as it changed hands during the Scottish wars for independence in the 14th Century.
Museum volunteer Claire Herbert revealed participation in the history sessions had soared to more than 200 children from about 100 last year.
She said: "It's been great fun to see all of them making their own costumes.
"They've been learning about the medieval period but we really wanted them to walk back in time through Elgin.
"There's so much history here under our feet that hardly any people know about."