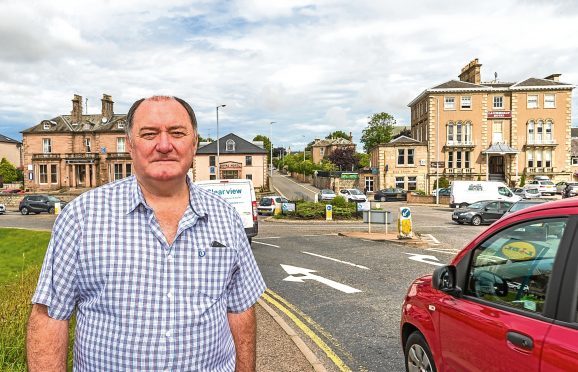 Campaigners have called for a new railway bridge in the west of Elgin as the town braces itself for overnight closures on a "vital" route.
The crossing over the tracks on New Elgin Road will be reduced to one-way traffic overnight for the rest of the week.
Plans to build a bridge in the west of the town were axed when the council scrapped the controversial Western Link Road last year.
But last night, the over-reliance on the New Elgin Road bridge was highlighted amid fears of major congestion if complex work needs done there.
And now, calls to investigate a western bridge have been raised once again.
Elgin City South councillor John Divers said: "The fact that the work needs to be done through the night shows the importance of the bridge – if it was through the day it would be a nightmare. It's vital.
"I've been talking about the need for a new bridge for the last 20 years.
"I know there's a suggestion of another bridge at Ashgrove, but I have reservations about how beneficial that would be.
"We already have the eastern part of the link road and I always believed the best thing to do was to complete it with a bridge somewhere in the west."
BT is carrying out the work this week as part of preparations for a new housing development.
The New Elgin Road bridge takes the bulk of traffic crossing the railway in the town. The crossing is also used by lorries and other heavy traffic heading to and from Speyside distilleries.
The only other routes are the level crossing at The Wards and the bridges on Ashgrove Road and Reiket Lane.
A link between Ashgrove Road and Maisondieu Road has been proposed as part of the £30million Elgin Transport Strategy to take the strain off the existing routes.
However, Alistair Kennedy, chairman of the town's community council, believes west Elgin would be the ideal location to cut the need for traffic relying on the New Elgin Road bridge.
He said: "One of the problems is that the bridge is already over its capacity. It takes almost all the north to south traffic in Elgin. If it ever has to close completely, then there would be major problems.
"When it had to shut because of flooding, the whole of the town was gridlocked.
"They need to look at another crossing to spread the traffic out. I think a western bridge will eventually have to come back on the table."
New Elgin Road will be closed between Maisondieu Road and Edgar Road for southbound traffic from 6pm to 6am daily until Friday, August 25. A further closure at the same times is scheduled to run from Monday, August 28 until Friday, September 1.
Diversions have been set up via Station Road, Wards Road and Edgar Road.
A BT spokesman said the work had been scheduled during the night to minimise disruption. He added: "The engineering work in Elgin involves laying a new cable from the telephone exchange to service a new housing estate."