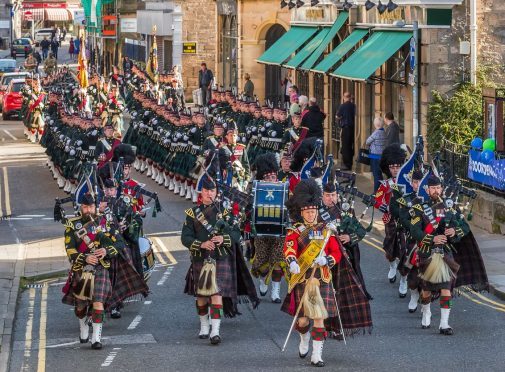 Hundreds of soldiers have paraded through the centre of Elgin and Inverness as part of a stirring homecoming.
The Highlanders, 4th Battalion Royal Regiment of Scotland, marched in their finest regalia following tours of Iraq and Ukraine.
Led by pipes and drums the spectacular display drew a huge crowd in Elgin with locals eagers to see friends and family in their tartan uniforms.
Although based in Yorkshire at the moment, the battalion – known as 4 Scots – has strong links to the north of Scotland and has been granted the freedom of Moray and the Highlands.
The display was an emotional day for Colour Sergeant Andrew Reid, who is leaving the regiment after 16 years.
The Buckie soldier most recently served in Ukraine, where temperatures dipped to -25C when he first arrived, and has also done tours in Bosnia, Afghanistan and three in Iraq.
While in Ukraine CSgt Reid was part of a deployment to help train the local forces.
He said: "It's good to come back to the area, what with us being the local regiment.
"There's a great sense of pride walking through the streets. A lot of people, friends and family, come out to support us.
"We're based at Catterick at the moment so it's good for a lot of the guys to come up north. We're the local regiment but we recruit a lot in the Commonwealth.
"We have soldiers with us from Africa and Fiji – but they all become adopted Scots for the day."
In Elgin, the 230 soldiers paraded down South Street before turning and marching along the High Street.
The troops saluted Lieutenant Colonel Grenville Johnston, the Lord Lieutenant of Moray, as well as Moray Council's convener James Allan and Brigadier James Roddis, commander of the specialised infantry group, on the route.
Lt Col Johnston said: "It's great that they can exercise their rights to march through the centre of Elgin with bayonets fixes and colours flying – it's a spectacular sight.
"They've inherited that right from the Queen's Own Highlanders days and the Seaforths before that. It's a deserved right that has been passed down."
On the Plainstones the Army had vehicles they use overseas on display for youngsters to sample life on the front line.
Lance Corporal Liam Maclean, from Fochabers, said: "A lot of the kids really enjoy playing around with what we've got. Obviously, later in life, they might end up using it themselves."